6+ Free Things to Do in Kuta
There are lots of free things to do in Kuta, is an area in southern Bali famous for its long beautiful beach. You can find luxury restaurants, resorts, and clubs along the beach. However, this place not only has luxurious places to relax. It also offers various memorable moments to experience for backpackers and low budget travelers.
Kuta beach is always full of domestic and foreign tourists, especially during long holidays. This beach is free of charge. It means you don't have to pay a penny to visit the beach. Visitors can try countless cheap or even free activities during their stay in this area. Do you want to know more about what free things to do in Kuta? Read up the whole article to find out some of them.
1. Sunbathing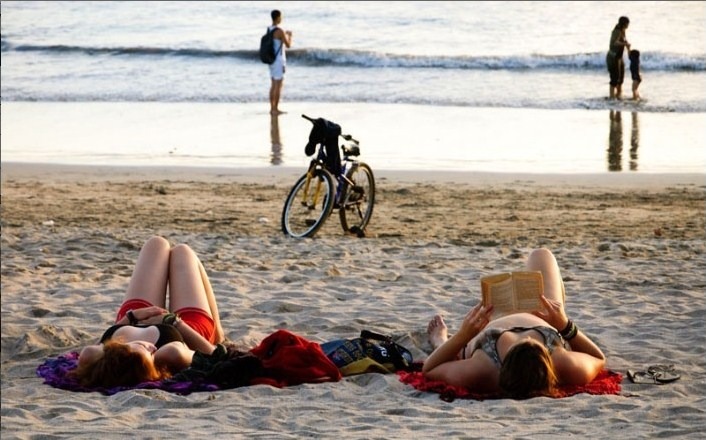 Visiting Kuta is inarguably one of the six things to do if you visit Bali. Most tourists are coming for the sun. The tropical sunny day at the beach makes it perfect for sunbathing. It has perfect ambiance to sit back or lie down and relax. Sunbathing is a great choice to refresh your mind and get tanned if you have ample time. Let me give you one important tip. If you plan to go to Kuta beach for this purpose, you need to come early to claim your spot. It is because the beach will eventually become more and more crowded as the sun gets higher. Don't forget to put on some sunblock.
2. Surfing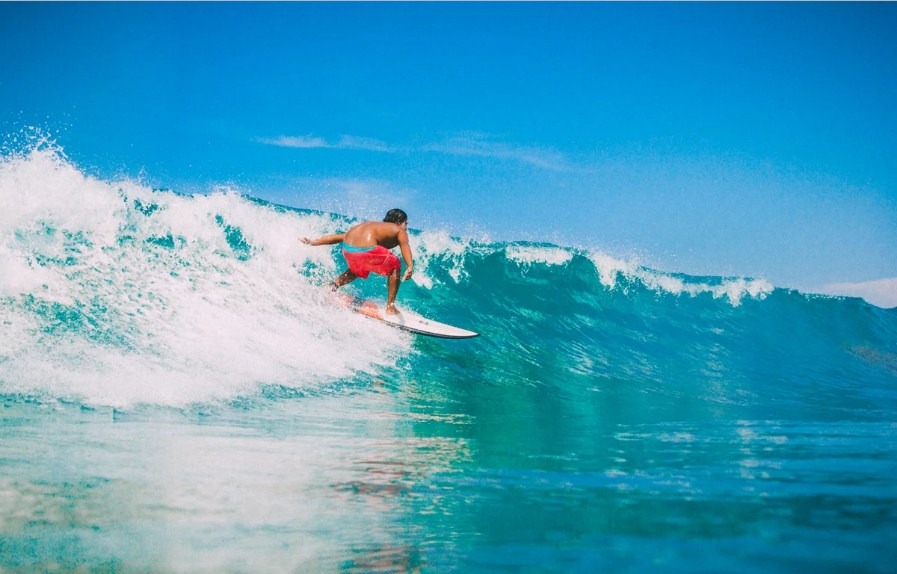 Beaches in Kuta have a nice wave which is perfect for surfing. A considerable amount of famous surfers, especially those from Australia, come to the beach to surf. If you are a surfer, you must've come to Bali for its waves. Professional surfers from across the globe bring their own surfboards to surf freely to their heart's content, but there are lots of rentals alongside the coastline. But, don't worry if you have yet no idea about how to surf. Surf schools at the area have professional trainers who can help you learn. Odyssey Surfing School is one of the schools located in Kuta beach. This school offers private and group classes both for adults and for kids.
Related Product:
3. Beach Volleyball/Football
One of the most exciting things when going to another place is how we can blend with the locals and make friends with them and the other vacationers. By doing so, you will never feel lonely even if you travel alone. One of the free group activities you can try on beaches is playing beach volleyball or football. Kuta's soft sandy beach is a great place to run around and have fun. Sometimes, you'll find local youngsters play on the sandy beach, especially in the late afternoon. Joining them is worth to try. It's totally free and fun !
4. Exploring the Area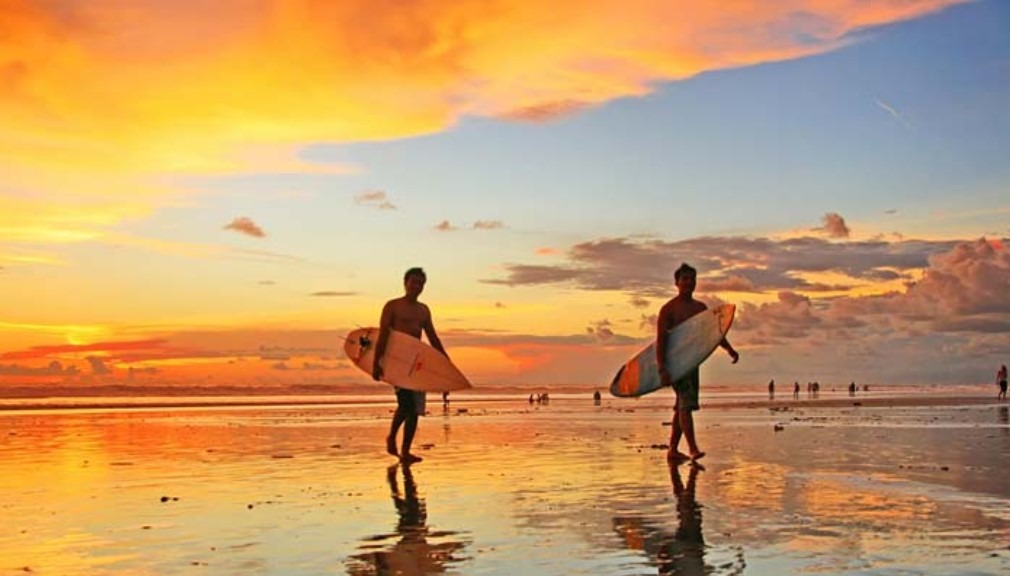 There are a lot to see in Kuta. The renowned Kuta beach is a long sandy beach where you can leisurely walk around. It is a romantic thing to do with your partner, family, or friend. If you travel alone, exploring the beach area is also a nice thing to do. Feel the warm sun, the breeze, and the soft touch of the sand while you slowly walk barefoot. So relaxing!
The beach area is not the only place you can walk around at and the only thing you can observe. As mentioned above, there are plenty restaurants, clubs, resorts, bars, spas, and gift shops which will gratify your eyes. While the other areas in Bali may look more natural and traditional, Kuta beach is more stylish. You will see local and international cultures blending together in this area. You can go window-shopping in malls like Kuta Beachwalk or Discovery Shopping Mall directly from beachside.
5. Learning about Sea Turtle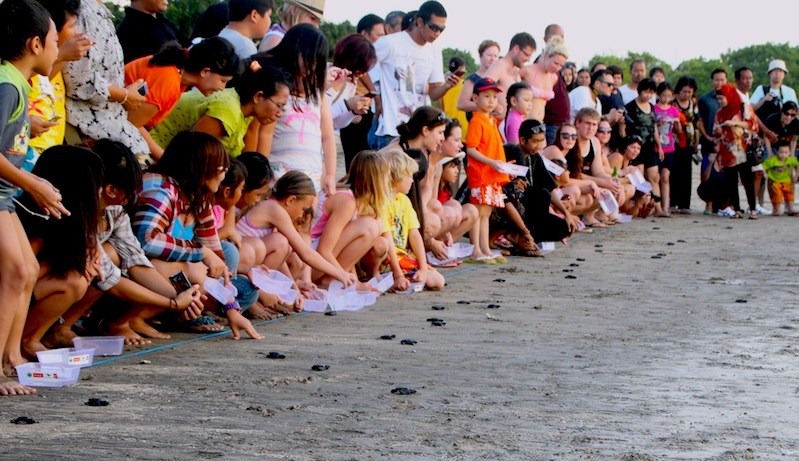 Doing fun activities which are both entertaining and educational is something anyone wants to do with kids. If you visit Bali with your younger ones, going to Kuta beach is a wise choice for you. There is a turtle conservation site in Kuta beach, located not so far from the entrance. It is the Bali Sea Turtle Society, abbreviated as the BSTS, which has an office near Balawista lifeguard tower and the Headquarters Beach Club in Kuta.
BSTS's conservation center helps hatch the eggs of sea turtle and safely release them back to the sea. They mostly help the egg hatchery of Olive Riddle turtle or Lepidochelys olivacea. Even though the time of releasing is not settled, interested visitors can check on their Facebook page and official website, or ask directly to their office, to know when the sooner release will be. If you are lucky enough, you can experience working with them and helping them to release freshly hatched baby turtles. It is one of the free things to do in Kuta that you can't miss.
6. Watch the Sunset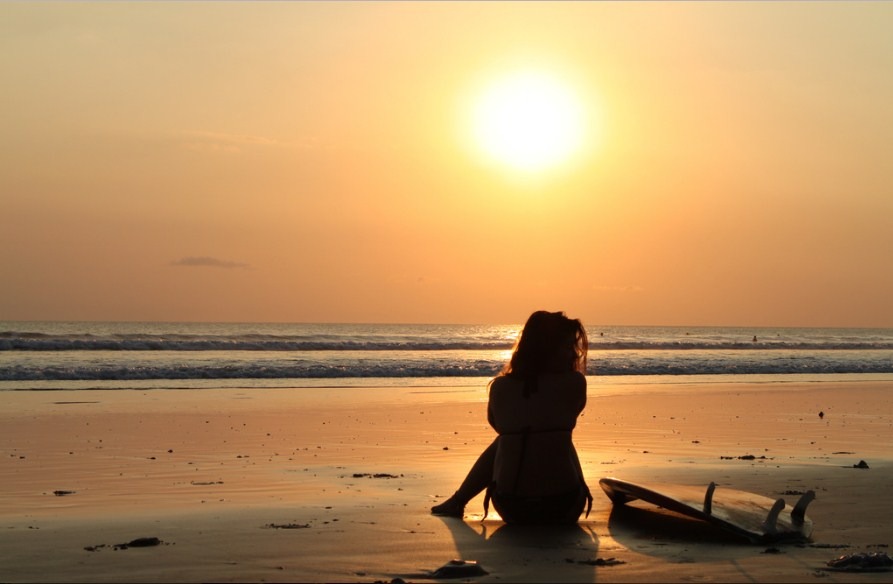 The other name of Kuta beach is the Sunset Beach. Witness the warm orangey sun sinking down the horizon from this place and you will see the reason why. The picturesque of the scenery there will surely pamper your eyes. You'll get enchanted by the view so beautiful you won't want to leave this place. Sunset watching is excellent for both your eyes and your mind. You can get more relaxed and composed as the sun goes down. This is also an awesome costless agenda to do with your significant others as the peaceful ambiance will strengthen your bond and make you more in love. Make sure you save some time to take pictures for your Instagram.
Now, those are six things to do if you visit Bali, especially Kuta. You can try them all for free. You already know that visiting Kuta beach is always worthwhile. Yet, much more adventurous and exciting activities are available in this area and the other areas in Bali and its surroundings. The festivals and nightlife are also something you cannot neglect. Make sure you get everything you expect to experience and enjoy your stay.