Get to Know the Finest Retreats in the Heart of Balinese Art and Culture
If you a spa-goer having a nice day-off in Bali, the idea of searching for the best spa in Ubud may come to your mind. Being on vacation in a cultural capital of Bali like Ubud is already popular, People come to this cultural and artistic heart of Bali for its natural beauty and tranquil ambiances. 
Indeed, Bali spa has become another reason for enthusiast globetrotters to travel to the Island of Gods. A Bali massage treatment is indeed best to rejuvenate our body and relieve our weariness after a busy day tour. If you are staying in this area, or is planning to, book yourself a treatment in one of Ubud's best spas. Below are 10 best places for your spa Ubud need.
For more of the island's best SPA—explore our complete 10 Best Spa in Seminyak that'll Treat Your Mind & Body Well
1. Ubud Tjampuhan Spa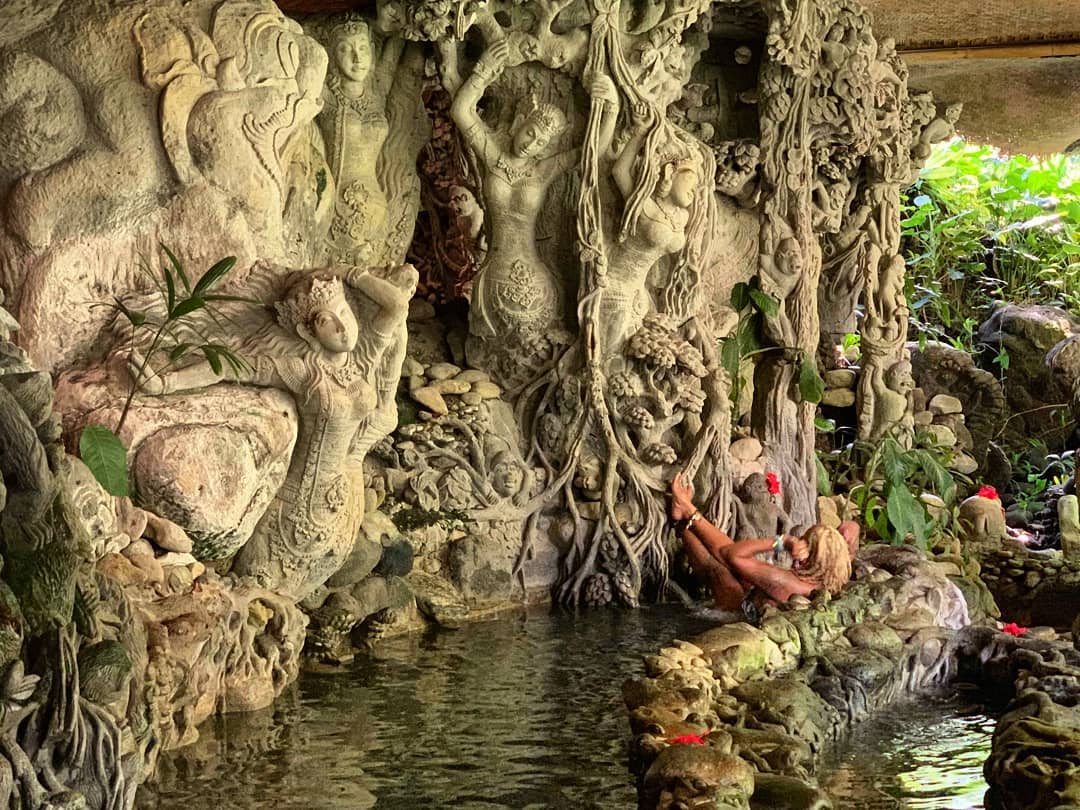 People recognize this luxury spa Ubud for its unique design and decoration that you won't find elsewhere. Situated in one of the most exclusive areas in town, Tjampuhan Spa offers the best treatment to alleviate the stresses of modern living. It is equipped with the hot and cold Jacuzzi in a stone cavern overwhelmed with mythical atmosphere. Tjampuhan Spa is dedicated to the therapeutic properties of water in semi-open therapy pavilions, overlooking Gunung Lembah Temple and Rivers Oos and Tjampuhan River.
There are two ponds like pools, one pond with cold spring water, and a sunken carved stone grotto in the shape of a mythical beast. Those are provide unique location for massage, sauna, steam room and Jacuzzi facilities. If you choose Tjampuhan Spa as your Ubud spa retreat, make sure you have the access to its whirlpool bath. While dipping yourself into it can help you feel more relaxed, the whole interior too is perfect property for your Instagram picture updates.
Related Product:
2. Ratu Spa Ubud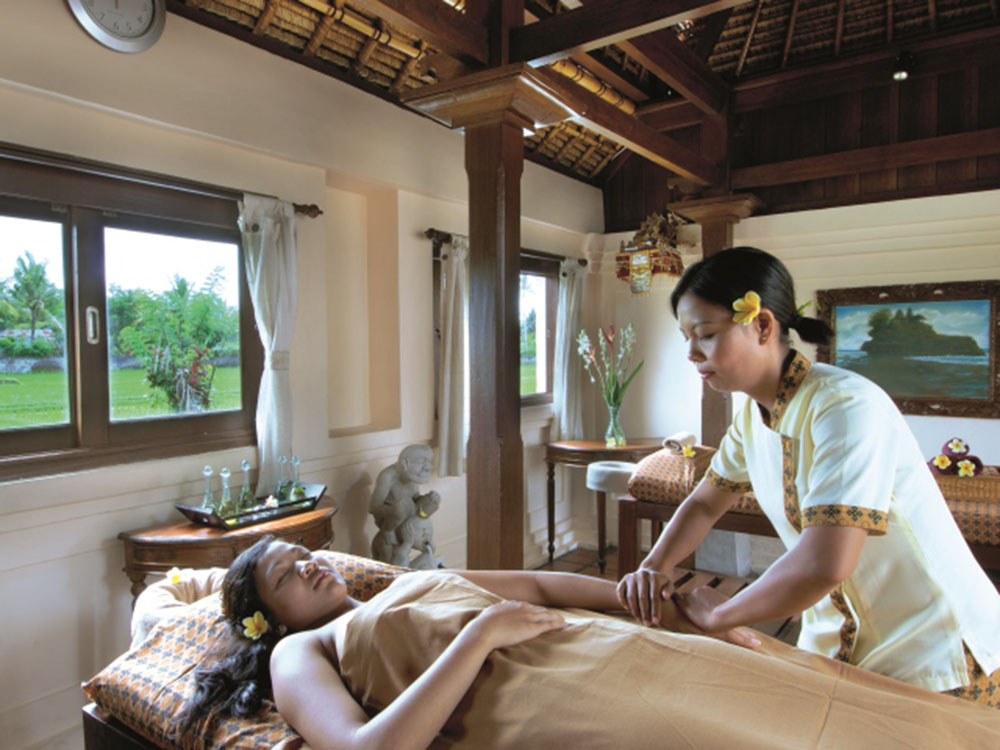 Ratu Spa Ubud gains recognition thanks to the popularity of its main spa in Kuta, that is Ratu Tiara Spa. The word 'ratu' in its name means 'queen', and they provide Ubud traditional spa that will treat you like a queen. Located only 10-minute walk from the Sacred Monkey Forest, making it one of the best spas in Ubud with the most strategic location. 
Start with a relaxing sea salt flower foot bath, then enjoy a traditional Balinese treatment at Ratu Spa Ubud. Choose a variety of relaxing treatments, such as Balinese Aroma Massage, Chocolate Massage, Hot Stone Massage, and more. You can also have an extra experience to feel more relaxing in a strong influence of Bali interior design.
Related Product:
3. Karsa Spa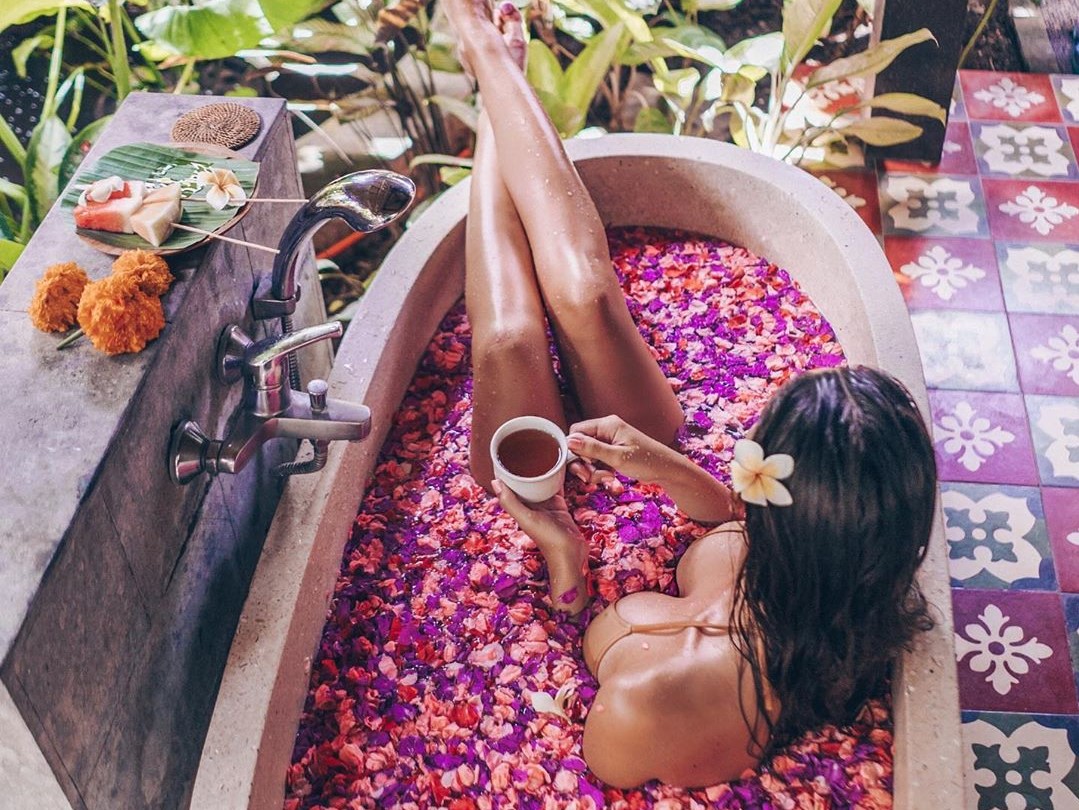 If you are familiar with Campuhan Ridge Walk, you must know that Karsa Kafe marks the end of your hike. Karsa Spa Ubud is just right behind it. What makes this spa special is the wonderful location that looks over the rice fields and the lush green environs where the treatment bungalows are located.
The idea of their spa treatments is to help open your entire being; not only your body, not only the mind, but the whole you. Featuring calming music that blends nicely with the serenity of the surroundings and a splendid aroma, this tranquil setting is just beyond imagination. Karsa Spa can be your best day spa in Ubud after a tiring stroll along the Campuhan Ridge.
4. The Yoga Barn
The Yoga Barn is well-known among the eccentric Yoga enthusiasts as a hidden gem in a sacred heaven of Ubud. As the name suggests, this place is filled with a spiritual vibe and is more popular as a sanctuary for Yoga practices. Besides the Yoga classes, you can get further revitalization treatments in KUSH Ayurvedic Spa. 
The name KUSH means 'happiness' in Sanskrit or Hindi, believing that you can regain yourself and be happy after your day spa Ubud. What makes KUSH Ayurvedic Spa special is that the basis of every treatment is selected specifically for each of their guests, focusing on balancing and rejuvenating your current body.
5. Cantika Zest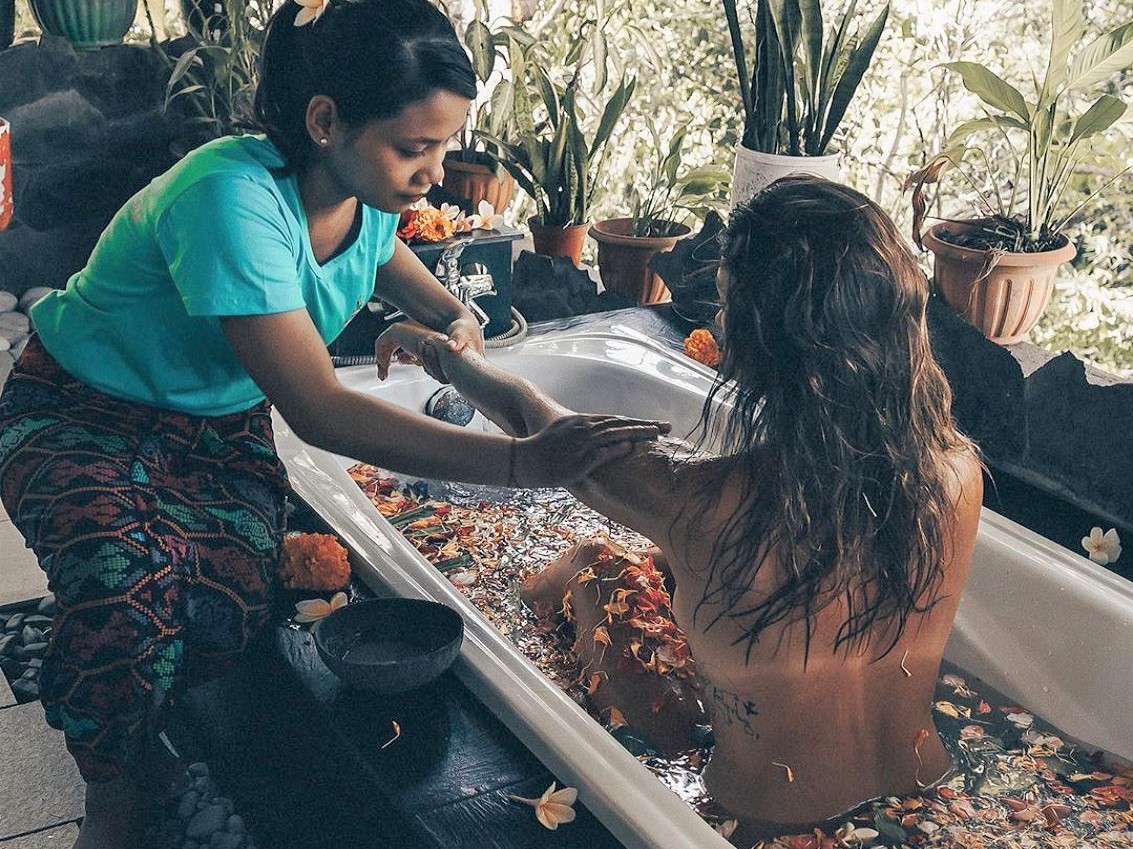 Labeling itself as the house of natural health and beauty, Cantika by Ketut Jasi performs treatments that connects you, as their guests, with the nature. Cantika Zest is the newest spa created by Jasi. Situated within a secluded area by the stream at the periphery of Penestanan Village. Cantika Zest is where Jasi makes her beauty products out of all-natural ingredients. It is also the venue for her workshops. So, other than having the regular spa routine, you can attend the workshops first and try the massage afterwards.
6. Taksu Healing Spa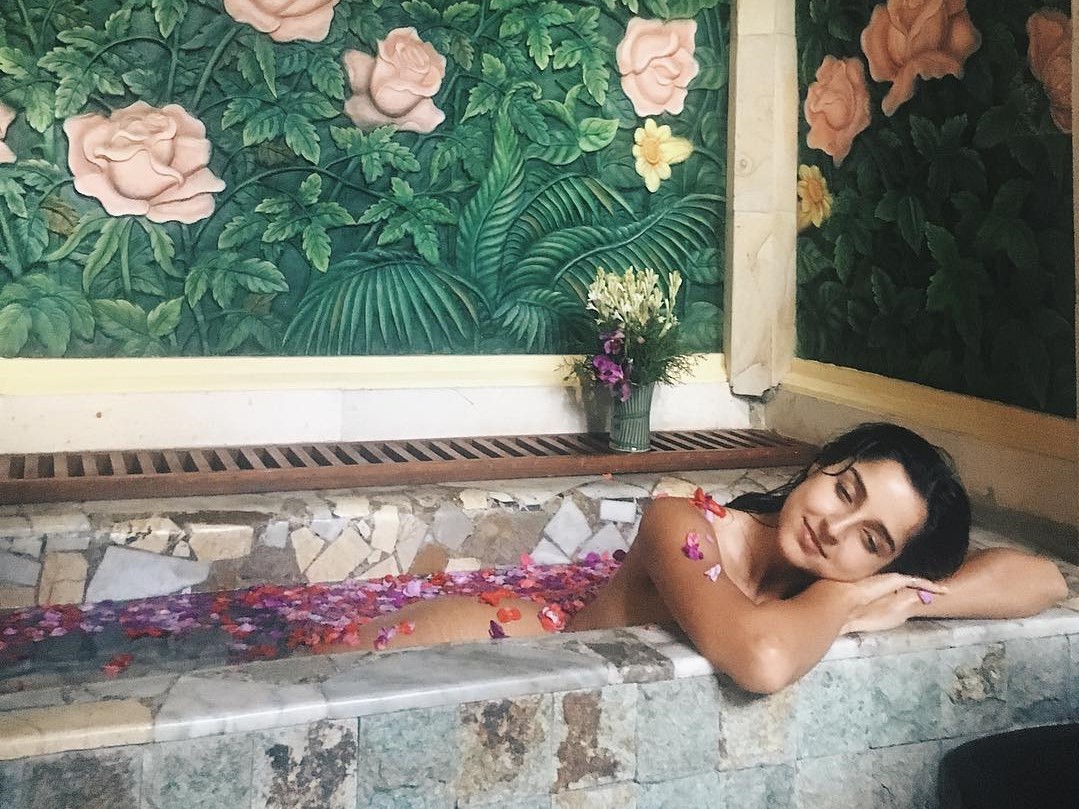 Taksu means 'the indescribable essence of Spirit' in Balinese. This becomes the orientation of Taksu Healing Spa which focuses on the rejuvenation of your whole self. Their treatments offer deep relaxation that bring you not only fully-nourished and at peace, but also fully aware of your natural being. The peacefulness of the surroundings will take you to the utmost relaxation while you feel the gentle touch of the experienced staff.
7. Sang Spa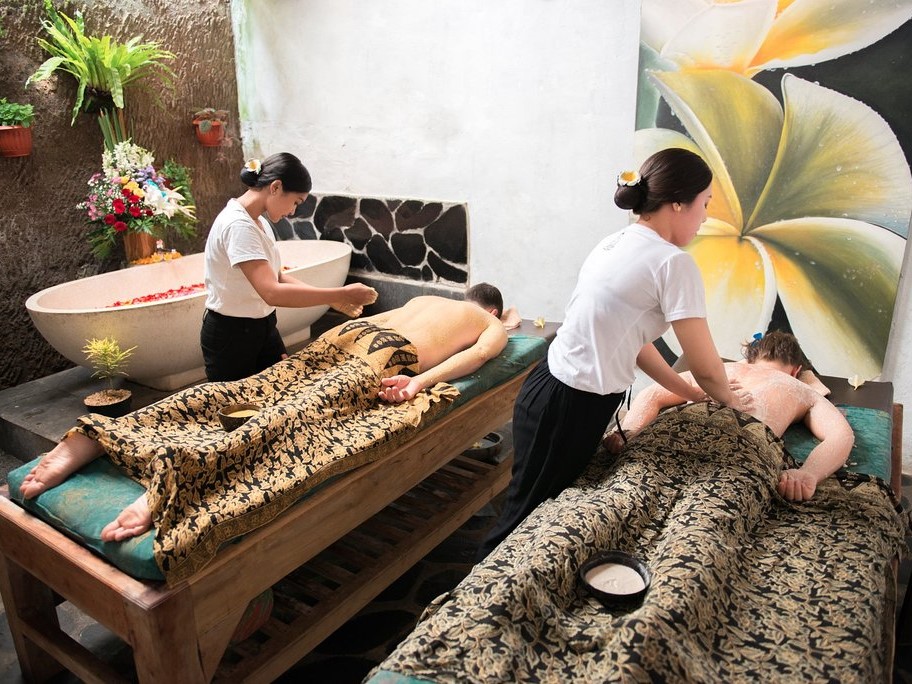 Founded in 2007, Sang Spa Ubud has been around for more than 10 years in spa business. It means that Sang Spa has more than enough experiences that reflect the quality of their services. This spa has comfortable environment and beautiful interior in relaxing setting. The decor uses natural healing elements such as water, stone, bamboo, and plants.
Not only focusing on body massage, Sang Spa Ubud provides some complete packages that include facial, hair, and nail treatments. It's perfect for anybody looking for a nice, affordable spa treatment after a tiring day in Ubud, Bali.
8. Ubud Kahyangan Spa
Surrounded by lush greenery and as the name suggests, Ubud Kahyangan Spa will take you to the tropical paradise. Offering 1-hour and 2-hour treatments that performs Balinese traditional massage techniques and aromatherapy that can make you more relaxed. With the great view of the nature surrounding the spa rooms, Kahyangan Spa is an ideal space to refresh your body, mind, and soul.
Related Product:
9. Royal Kirana Spa
So now we realize that there are bunches of luxury spas in Ubud, some of which are parts of Ubud resorts. Royal Kirana Spa is one of the spas in this kind. Royal Kirana Spa is part of Royal Pita Maha Resort located adjacent to it. This exclusive retreat is blessed with scenic view of Ayung jungle that ready to pamper your eyes. It is an ideal place for relaxation and releasing the body and mind from the pressures of modern living.
Royal Kirana Spa is always geared up to give you the best and finest spa treatment in Bali. This includes revitalizing massage treatment, tonic aroma massage treatment, deep tissue therapy, whitening facial treatment, pro collagen anti-aging treatment, and many others.
Related Product:
10. Fivelements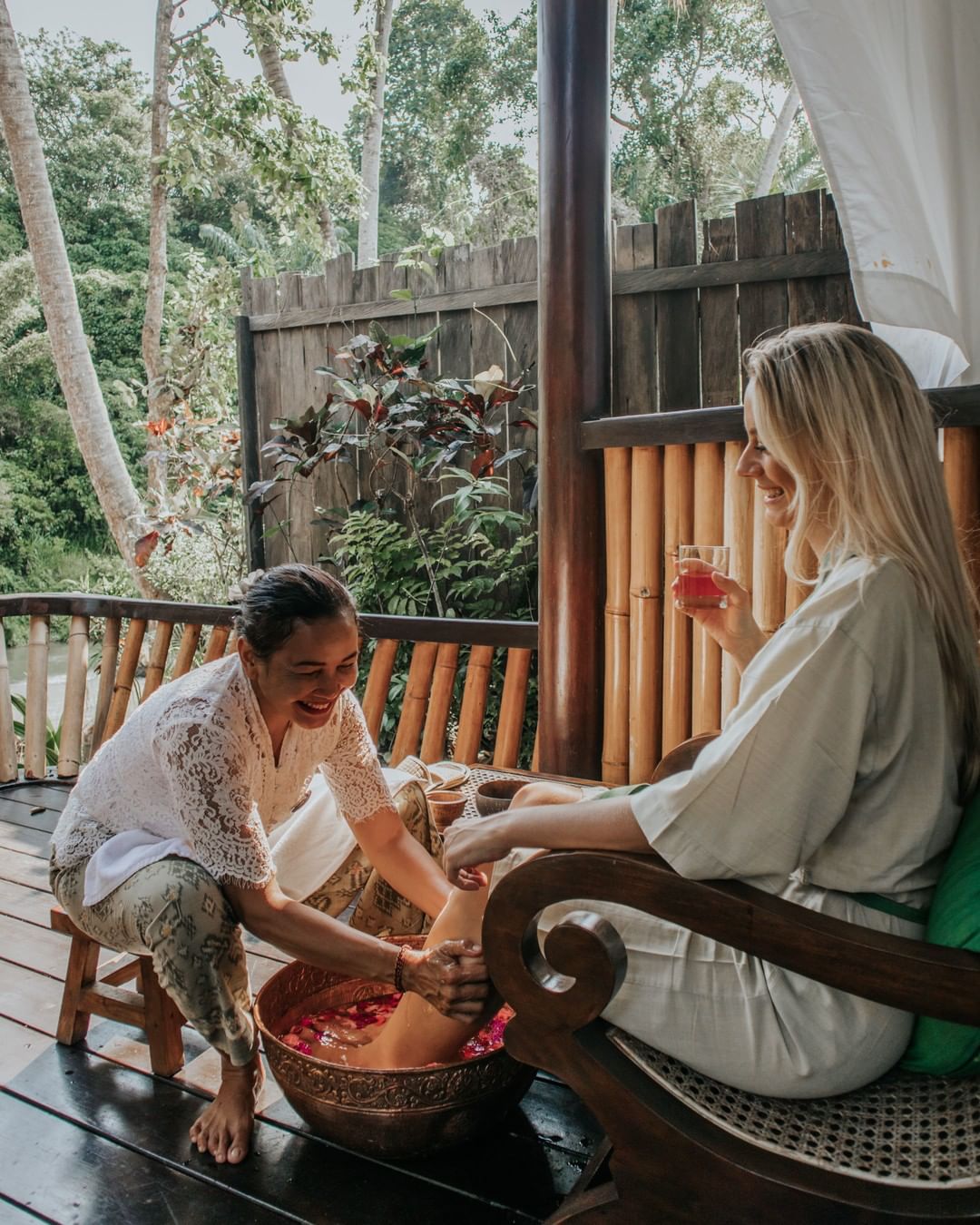 Fivelements claims itself as an award-winning healing retreat presenting wellness treatments with sacred arts for healing and beauty. Their eco-conscious wellness retreat concept combines Balinese traditions with the natural ingredients and techniques. With Fivelements, you can experience a healing spa treatment while feeling the mystical culture of Bali.
Special Mention: In Villa Spa Bali
Don't want to get out of your accommodation? Don't worry; you can still unwind yourself and get a soothing spa treatment to regain energy and remove the stiffness of your muscles. With In Villa Spa Bali, you don't need to get out of your resort or villa. Your therapists will come to you. This it possible even if you stay in Ubud. Just book for 2-hour massage treatments for two and your therapists will go for you. Who knows? It may as well become one of your experiences for your best spa in Ubud for couples.
Related Product: