Let's Disconnect from the Hustle Bustle World for a While with the Best Spa in Seminyak
The following list of 10 best spa in Seminyak might give you new references to get a relaxing treatment after many busy days. Nowadays, a spa treatment is considered as something essential to maintain your wellness. Trapped in the deadly daily routines may put you in stress or even depression. That is why you need to make a disconnection for a while from that. One day treatment of Bali spa is the perfect answer. Lucky you if you have a vacation to Bali. The places to get Bali Massage and spa are lots and spreading all over the island.
One of the happening places in Bali, Seminyak, also has numerous spa places that you can choose. From the best cheap spa Seminyak, until the most luxury one, just keep scrolling down and read. Here are 10 best spa in Seminyak based on Wandernesia version:
1. Bali Lluvia Spa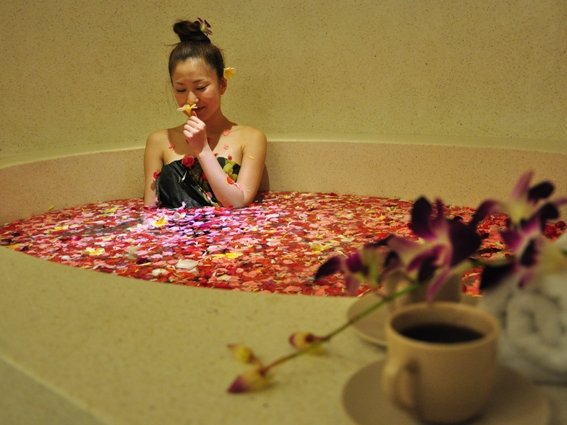 This first spa Bali Seminyak is reachable from Ngurah Rai International Airport, located in Jalan Sunset Road, not so far from Dream Museum Zone Bali. So, if you want to get one soothing treatment before or after your flight, just make a stop here. The spa takes the theme of modern and natural-minimalist with pond-view. The service is very professional and friendly to make your short stay in a massage room satisfying guaranteed.
Choose from a variety of Spa treatments from 1 hour to 3 hours. The Lluvia Spa has a signature treatment namely Lluvia Pearl Spa. This treatment offers you 2-hour of massage with the series of ingredients made from pearls to keep the skin smooth and repair the damaged skin. Of course, they also have an amazing couple's package for a romantic spa experience with your partner.
Related Product:
2. Sundari Day Spa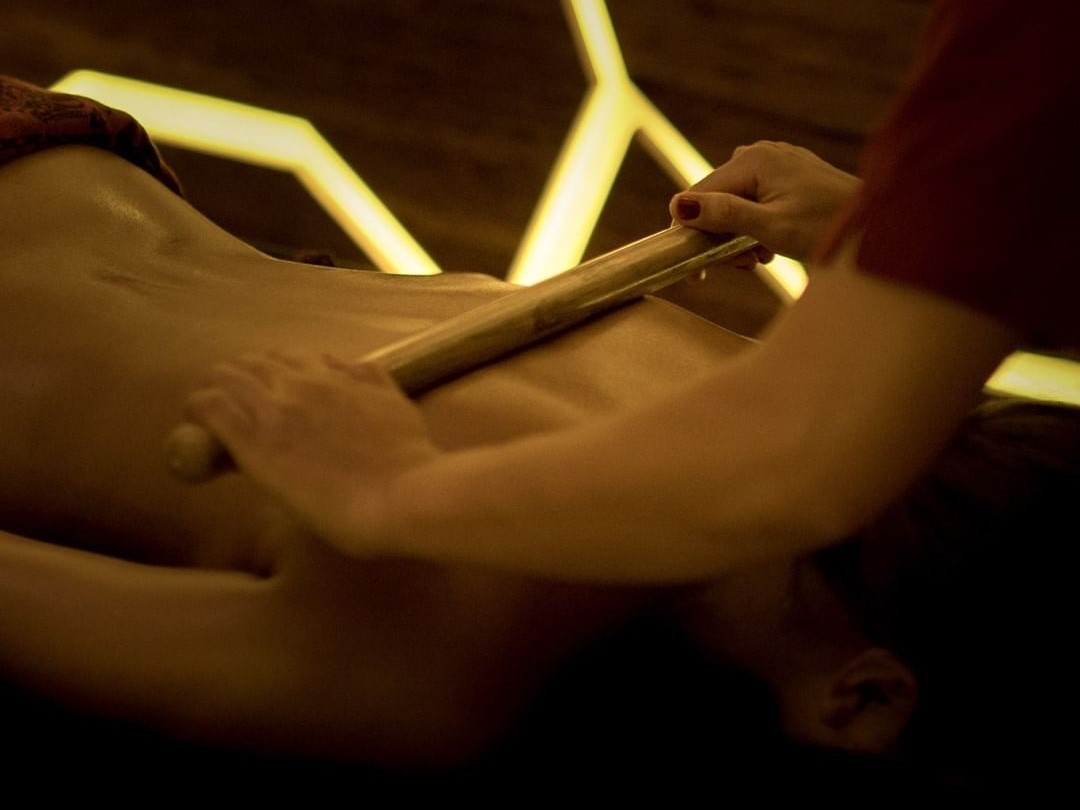 Sundari Day Spa is a luxurious-modern spa that is inspired by the Balinese philosophy of Tri Hita Karana (three causes of well-being). Unlike any other spa houses in Bali, Sundari Day Spa puts quality over the profit on its priority list. It can be seen from treatments, services, and products. Based on the spa house claim, the use of 100% pure essential oil will make you get the perfect benefits of it.
Indulge yourself in hours of soothing treatment and leave the busy world behind. With the combination of modern and traditional healing techniques, you can feel the new energy in you right after you step out from the place.
3. Jari Menari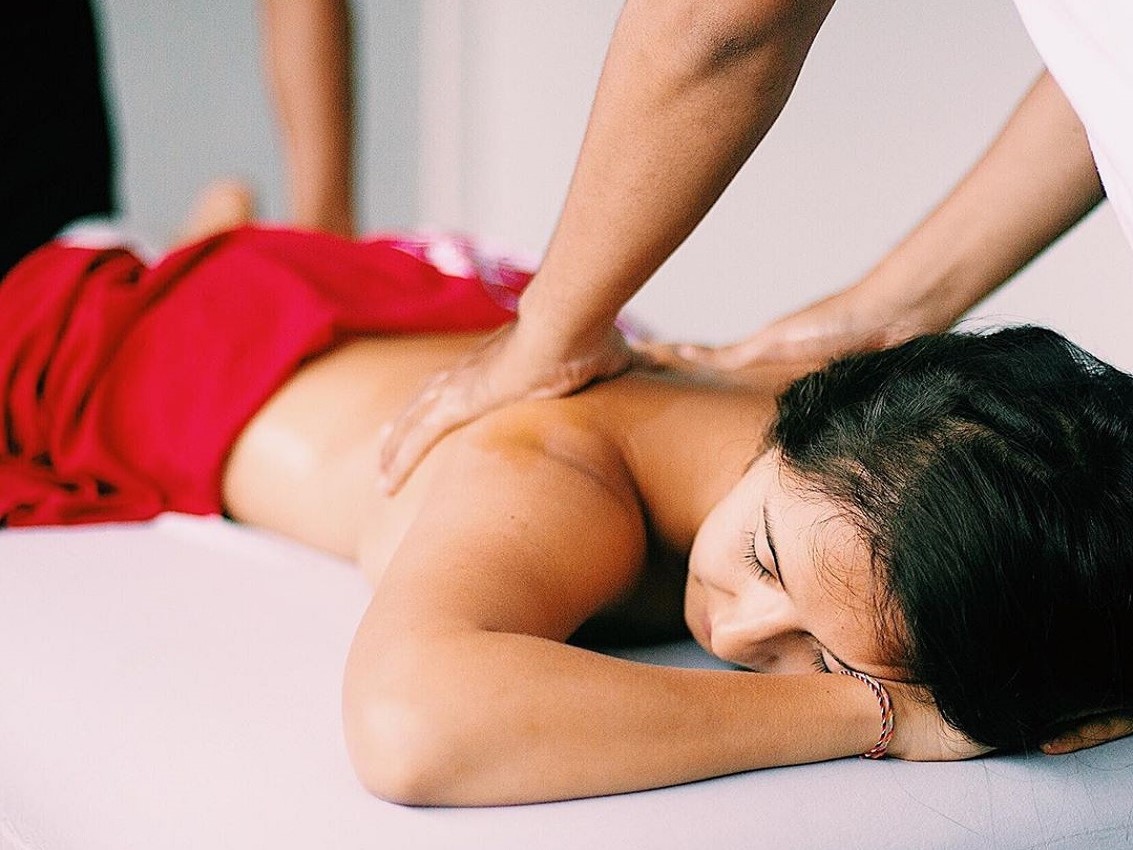 Recognized as an award-winning massage space nestled in Seminyak, the name of the place if it's translated to English will be 'Dancing Fingers'. The name has a meaning behind about how gently the flow of the therapists' hands when giving you the massage. Featuring male-trained staff, the Jari Menari is a right place to go if you want to look for the unique experience of spa! The therapist delivers a wonderful massage in lovely ambiance with beautiful trickling water in each room. Feel a rhythmic and consistent pressure of the massage.
4. Bronz Spa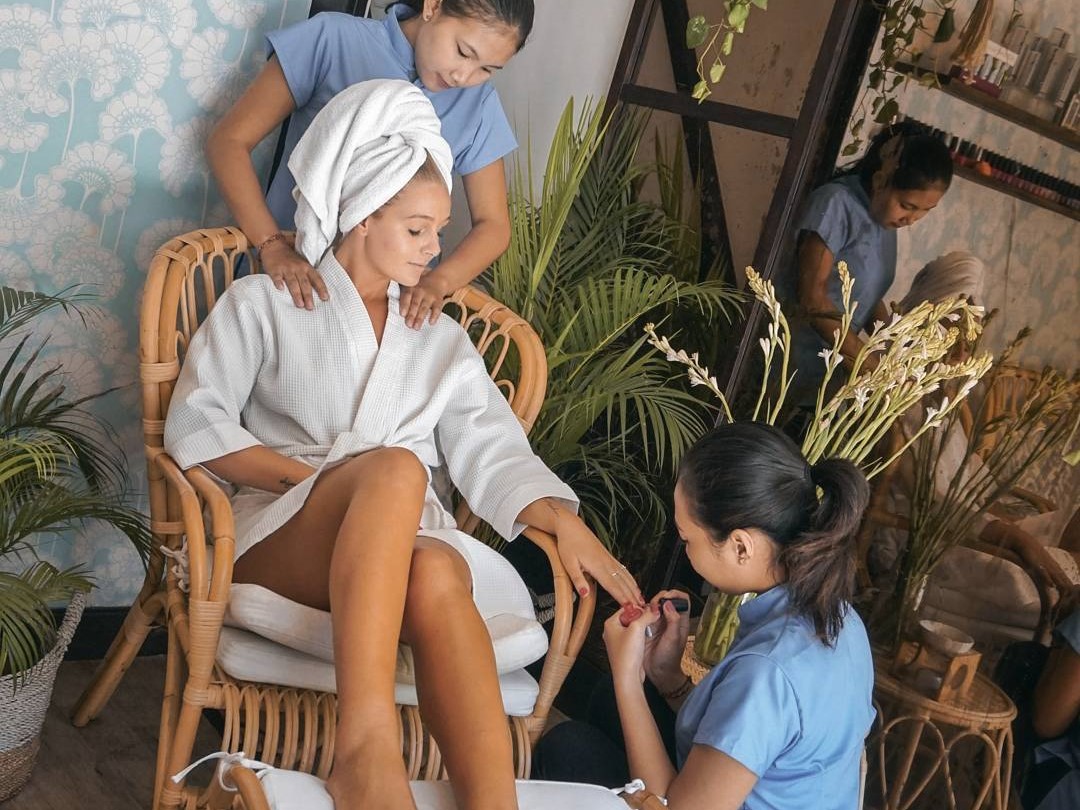 Bronz Spa was beginning as one of the first spray tanning and body salons in Sydney. Specialize in spray tans with amazing coverage. They also offer a wide range of wellness and relaxation treatments. If the regular spa offers you hours and hours of treatment, Bronz Spa is more than that. The highly trained professional therapist will do some analysis to your skin. You can get the result and best recommendation for your skin afterwards. 
Great to prepare your body for your holiday! The Bronz Spa also offers you the super complete treatment. Ranging from body treatment, skincare & facial, waxing, skin needling, and nail care, your body will be guaranteed to be treated well in here. Indulge in this invigorating treatment made from local ingredients of Bali coffee with sea salt, vetiver, sweet orange & lemon essential oils.
5. Prana Spa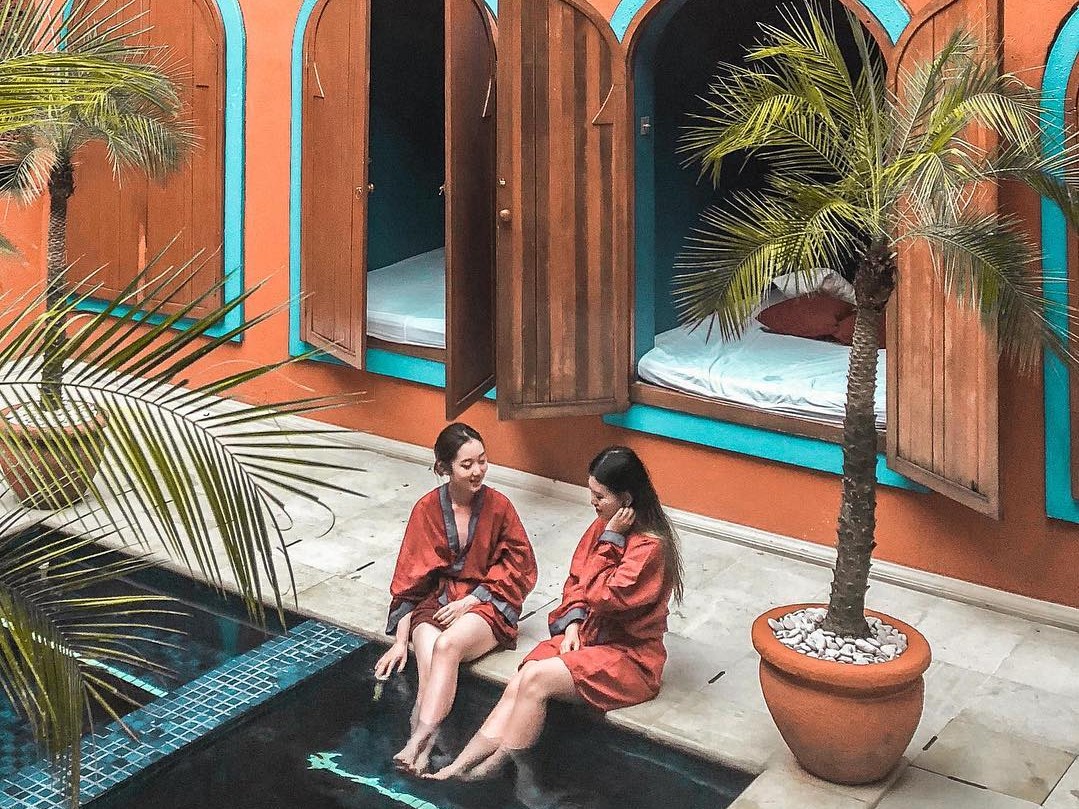 Want to feel the ambiance of Indian & Middle Eastern? Make sure to add Prana Spa Seminyak to your list! Besides the exotic treatments offered, you can also have an extra experience to feel more relaxing in a strong influence of Indian & Middle Eastern exotic architecture. After hours of the treatment, you can go upstairs and joining in yoga class. The class surely brings the peace to your mind after your body is well-treated.
6. Body Temple Spa
Meet Body Temple Spa, the place where you can get the best cheap massage Seminyak. With the affordable price offered, you can get various treatments in here. Experience pampering treatment that will make you feel relaxed and rejuvenated. Each one of the treatments was carefully designed to help you achieve a specific benefit for your body. Using specialized techniques and aromatherapy in complete luxury, relaxation, and comfort at Body Temple. 
The spa also offers unique treatments like bamboo massage to give a deep, firm massage and rolled over the muscle in release of tension and easing knots. Even if you take your lover, both of you should take the Couples Retreat. This package is ideal for you who want to share romantic moment together in different sensation.
7. Bodyworks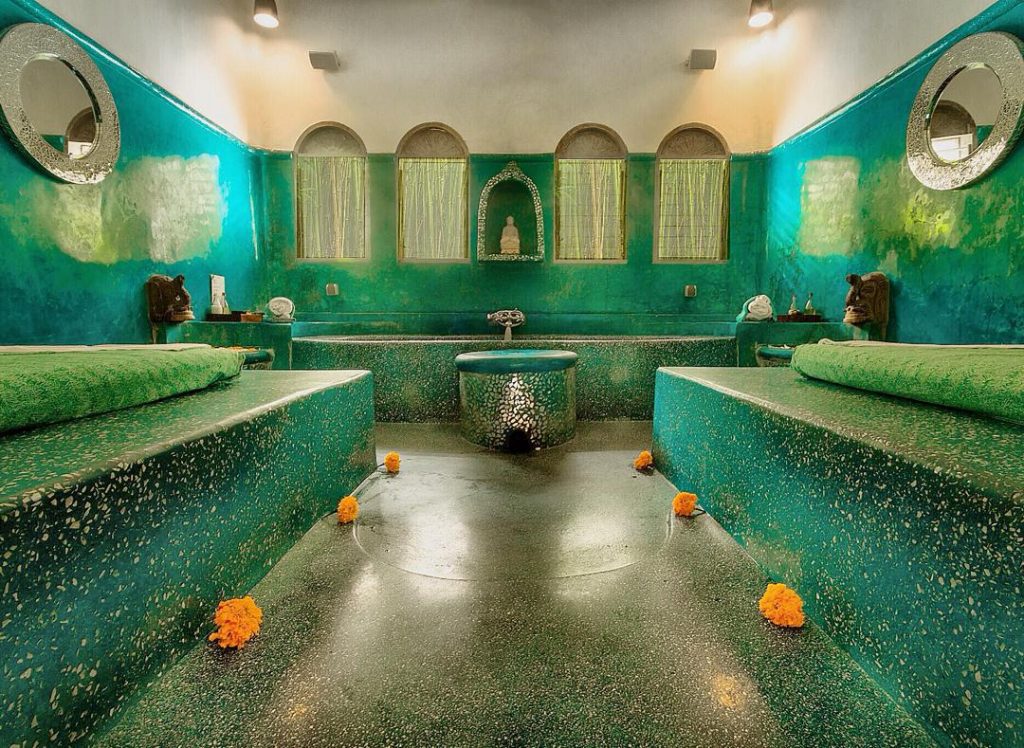 @bodyworksbali
Bodyworks Bali also offers you the different atmosphere when you step into the place. Bodyworks has positive reputation on the consistent delivery of high standard massages and beauty treatments to guests. The spa provides treatments ranging from Thai Massage, Shiatsu Massage, Tension Release Massage, Bodyworks Bliss Massage, and many more.
Featuring the friendly staff combined with excellent facilities, it is undoubted that the spa house would make you fall in love instantly. With the incredible Morrocan vibes, indulge in various treatments will be totally worth thing to do in Seminyak.
8. Spring Spa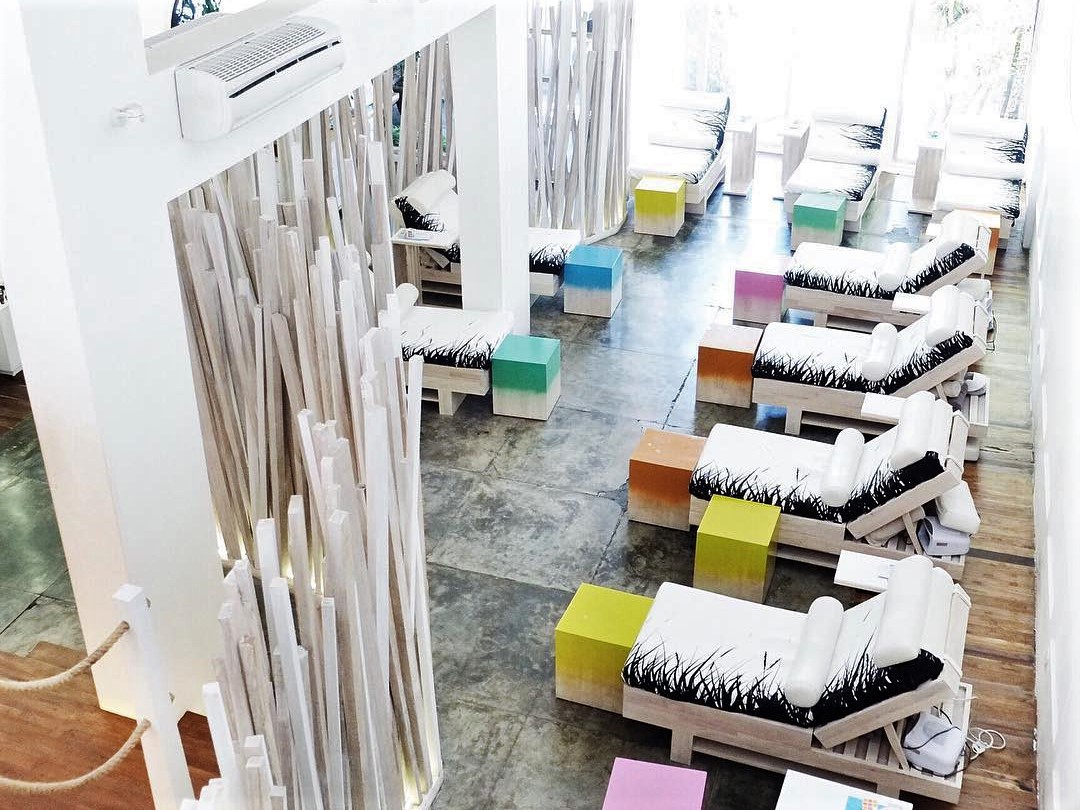 Awarded as 2016 Asia's Best Day Spa by World Spa Awards, you definitely will get the world-class treatment in Spring Spa. In Seminyak, this spa is located on the amazing Rooftop Terrace of Seminyak Village Mall, and opposite the W Hotel Seminyak. Prepare to be amazed with outstanding stylish interiors, health bars, as well as a DJ playing soothing sounds. Indulging in our luxurious limited-edition experience and feel the stress melt away with Spring Spa's signature massage to ease aches and pains. Book the best treatment here to make your body is well-rested while sipping to the detoxing juice.
9. Bali Disini Spa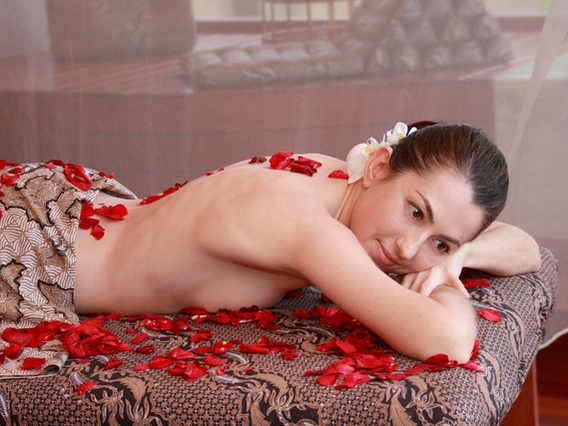 Bali Disini Spa guarantees you the ultimate experience of relaxing treatments. Disini Spa has inwards the best Asia's Natural Healing treatments which offer combine natural organic techniques for wonderful services experience. Detoxify your body and get nourish skin right after the treatment completed. This Bali spa is located in a pool villa with luxurious garden atmosphere. Most of the treatment also offer a flower bath where you can soak in rose petals.
Related Product:
10. Acqua Perla Spa
The tropical surf beach inspires the Acqua Perla Spa to turn the place has a strong vibe of underwater theme. The second you get into the place, you could feast your visual at maximum level. The range of calm colors does help you to bring peace to your mind too. With the selection of first-class treatment, you can have a moment of a getaway from the busy world and feel how the therapist's hand release your stress away. The best wellness signature is Sensorial Hydrotrail Spa Treatment that will take you on a magical and wondrous journey through 7 different stations.
Special Mention: In Villa Spa Bali
Specifically designed for you who cannot leave your villa, the in-villa spa Bali is the perfect answer for you. All you need to do is making the simple reservation by clicking the product below. After that, wait and the therapist will knock your door to give you the treatments. Say goodbye to the hassle of reaching the spa house, and let your body sense the ultimate relaxation in your convenient villa.
Related Product: