Top Choices of Bali Luxury Resorts
Looking for Bali luxury resorts is an important need to fulfill your holiday in Bali. Everyone knows that Bali is full of exotism of beauty. The panoramas, culture, tradition, and local wisdom play your emotion to love this island. With all the amusement, Bali attracts every single eye to see, watch, and enjoy it. No wonder many travelers put Bali on their first top of vacation list.
Then, make the beauty complete with the amazing place to stay. Bali really understands to satisfy your need and hunger for beauty. With awesome resorts, hotels, villas, and homestays, all you need about beauty is complete. Further, if you look at the top choices of Bali luxury resorts, the following will give you the choices of a luxury resort to stay. A right place to stay gives deeply more feeling of love, happiness, and enjoyments. Just follow this information and you will get the nicest inspiration.
Viceroy Bali

First of this top choice of Bali luxury resorts is taken by Viceroy Bali. Located in Ubud, you need 1-hour drive from Ngurah Rai International Airport to reach this resort. Situated in Ubud also gives a different sensation of a holiday. Staying here you will get the refreshment of Ubud's ambiance. The fresh air and green natural view create a calm emotion of feeling.
With all the Gods have given to Ubud, Viceroy Bali offers you the more beauty to complete it. Staying here you will get a large and comfortable villa. It is complete with TV and iPod dock. The bathroom is also nice and comfortable. Don't worry about your connection, wifi access is free for you.
Further, this five-star resort offers you a spa service too. Personal yoga class is also available here. Relaxing your body here is nice after your fun adventure. The cuisine is also awesome to try. The France cuisine with a special touch of Asian style will serve you well. Never miss the wine for your romantic moments here.
Furthermore, if you like reading, there is a library to kill your time. Ubud Market, Monkey forest, and Puri Ubud are close to visit from this resort. In addition, this accommodation also provides Helicopter pick up service.
The St. Regis Bali Resort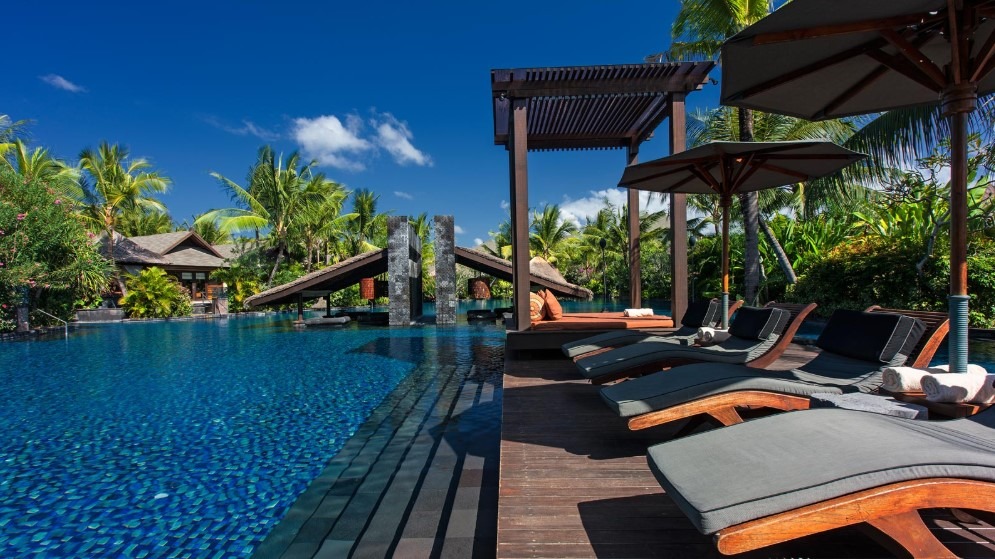 On the second list of this top choices, Bali luxury resorts are St Regis Bali. Just move to Nusa Dua Bali. Nusa Dua is also famous for the beaches. Spending holiday here will full of beaches experience. The St. Regis Bali Resort is a nice destination to stay. This Bali beach resort offers you an exotic experience of Bali Style.
Further, all the suite here offers you the traditional decoration of Bali. The panorama of the sea adds the awesome view of this resort. In every single suite, you will get a comfortable service. Relax on your private balcony which faces to the park. Flat TV with DVD player is also available for you. The bathroom is also comfortable. In addition, some suites of this resort also provide personal hot tub.
Furthermore, to satisfy your hunger, special European food is ready to serve you. Then, wifi connection is also provided to keep you connected to the internet. You can also explore some Bali destinations near the resort. This resort is only 20 minutes from Ngurah Rai International Airport. Geger Beach, Tanjung Benoa, and Pandawa Beach are nice to explore. For the shopaholic, Bali Collection is close to you.
InterContinental Bali Resort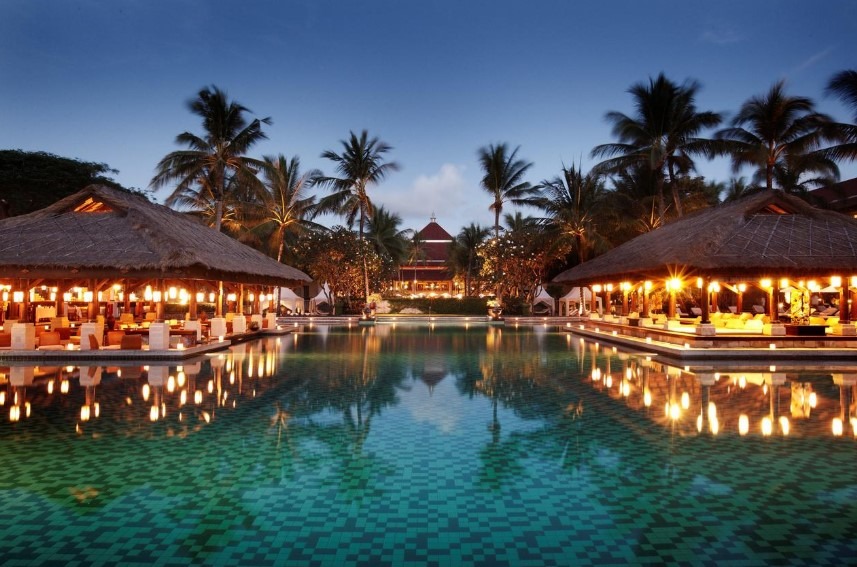 On the third list, you may come to InterContinental Bali Resort. Located in Jimbaran, this resort is the best hotel in Bali for a honeymoon. Spending your holiday here will full of romantic moments. The place is nice and comfortable.
Further, this resort offers you the feeling of Balinese traditional art. Wifi connection is free for your internet access. Then, the room is a complete comfortable bed. Satelite TV is provided for your entertainment. The bathroom is also comfortable with complete facility. You will also get a personal balcony to relax.
To satisfy your hunger, this resort offers you buffet menu. Pizza is also nice to taste here. you can also walk around the resort to find Jimbaran seafood. As an additional information, Jimbaran is famous for the seafood. It is delicious and you should try it.
Furthermore, you will also get spa to relax your body. If you like reading, it also provides DVD and books to learn there. Keeping your body fit is also available in the gymnastics center. In addition, this resort has 6 swimming pools. Just swim and relax there with your couple, family, or friend. To reach this destination, you only need 10 minutes to drive from the airport. Garuda Wisnu Kencana and New Kuta Golf are close and you can reach in only in a few minutes.
The Oberoi, Bali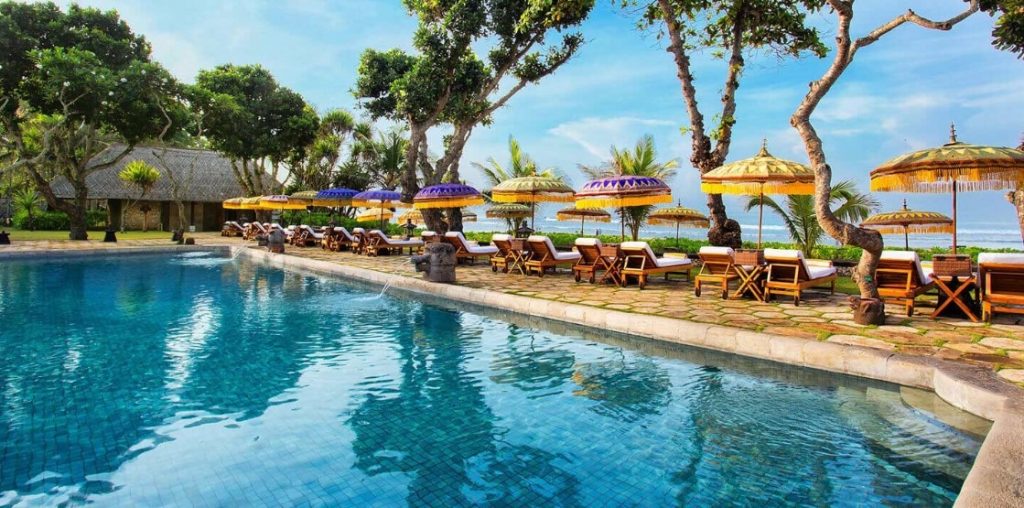 The Oberoi, Bali is the next list of a top resort in Bali. It is located in Jimbaran and only 7 km away from Ngurah Rai International Airport. This accommodation is easy to reach by car or another vehicle.
Offering impressive decoration of every single room, you will be amazed there. Each room is also complete with satellite TV and DVD player to amuse you. The bathroom is comfortable and you will love to use it. Further, the resort park will relax your eye with a magnificent view.
What about the food you can eat there? don't worry, it is delicious and you should try it. Indonesian, Asian, and even Continental meal ready to spoil you. Many kinds of drinks are also ready to accompany your quality time.
In addition, wifi connection is free for you. The 15 hectares tropical park also gives you another sensation of enjoyments. Relax on the swimming pool and visiting area surrounding is also interesting. Cocoon beach and Ku De Ta beach are two beaches destination which you can visit in a few minutes.
Travelers, the list above doesn't mean Bali only has it for your great resorts to stay. There are many and still many more. The list above is a nice choice to choose. Don't miss one of them while you are spending your holiday in Bali. Happy Bali enjoyments travelers.