What To Do in Nusa Dua Bali as a Solo Traveler?
Are you a solo traveler and have a plan to visit Nusa Dua? here is what to do in Nusa Dua Bali as a Solo Traveler. For some people being a Solo traveler or a Backpacker is a desire. It is a special sensation when you can explore a new place only by yourself. Solo Traveler is always happy to lose in a right decision. It means you are really a single fighter and like to challenge yourself.
For a single traveler, being in touch with the local people is one of the satisfaction. Knowing the local wisdom of the area visited and being united with them is one of the gifts. Moreover, you can go anywhere as you want without thinking of the other. Your traveling is yours and your enjoyments are totally yours too. Here if you want to have your solo traveling in Nusa Dua, Bali, the following can be your inspiration.
Devdan Show, Get to Know the Richness of Indonesian Cultures.

Bali is a part of Indonesia and Indonesia has many different cultures from the westest part to the eastest part. If you want to know it all, exploring all of them will spend much time and much money. But, If you visit Nusa Dua Bali, you can see the richness of Indonesian cultures only in a place. The Devdan Show, it is the show of Indonesian culture from Sumatra to West Papua.
"It's better to see something once than to hear about it a thousand times". YAP, it is better to see this Devdan Show than you only hear about the story. This 90 minutes art performance is the combination of Contemporer art, modern art, and traditional art and culture of Indonesia. Here you will see many cultures of Indonesia.
The first you will see exotic dance, then the effect of the show will amaze you. The choreography is also awesome. After leaving the show you will feel as if you have visited every single corner of Indonesia. This Show can be enjoyed by all ages. Don't forget to find a new friend here. You can ask your new friend to watch this show together so you will have a friend to watch and enjoy it.
Related Product:
Sea Walker, Walking on the floor of the sea.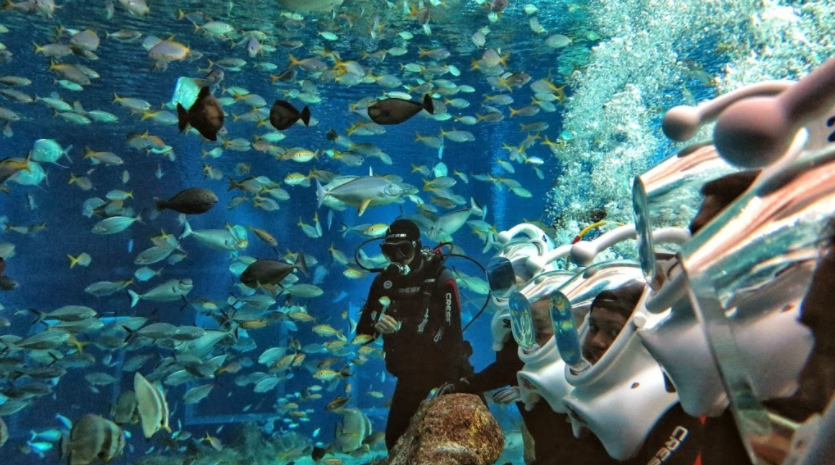 The next adventure you can try in Nusa Dua beach is Tanjung Benoa Sea Walker. This water rides adventure is still one of Tanjung Benoa Water Sport. Feel the sensation when as a solo traveler you are walking alone on the floor of the sea. Is it scary or challenging for you?, NO, it must be fun for you as a solo traveler.
Here you will walk under the sea with a special helmet for breathing like an astronaut's helmet. And, who will be your friends here?. Can you guess brother?. Of course, the sea, beautiful fish, beautiful underwater view, and amazing experience are your close friends. If it is interesting enough for you, you have no reason for not coming here for your next solo traveling.
What about if you are afraid to try it alone?. As the previous suggestion, find your new friends in every single place of your traveling. Having a new friend in your solo traveling means having a new fantasy of traveling.
Related Product:
Pirate Cruise.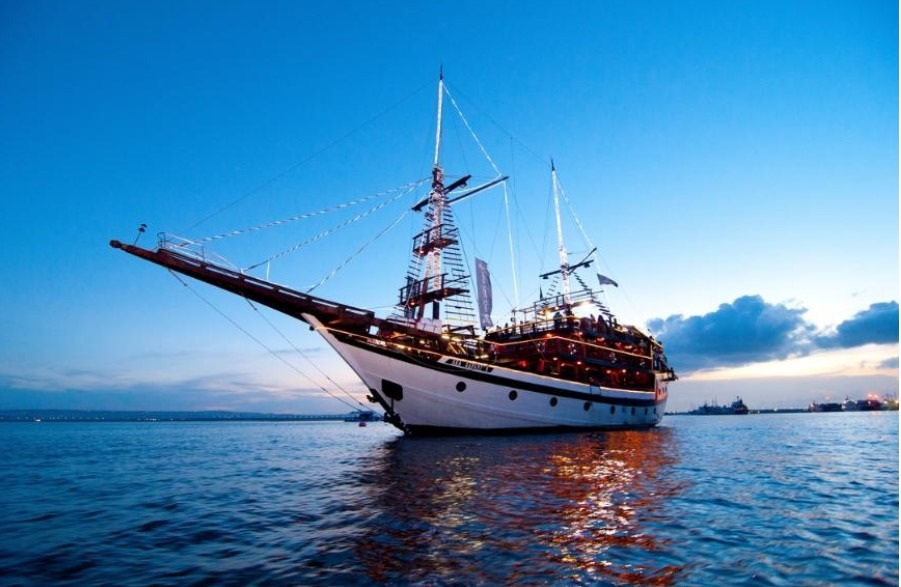 This Pirate Cruise is located in Tanjung Beno, Nusa Dua Bali. Here you can try a dinner as if you are a pirate crew. You will use custome of a pirate too. Playing a game with the other pirate crew and enjoy the night with them to get new friendship.
As a solo traveler, there is a challenge for you here. If you a single and don't have a mate, find your mate here. The dinner in this pirates cruise is so romantic. Imagine when you are in your traveling and you find your sweetheart in a romantic place. What a moment guys ….
Related Product:
Flying Like Iron Man in Nusa Dua Beach, Tanjung Benoa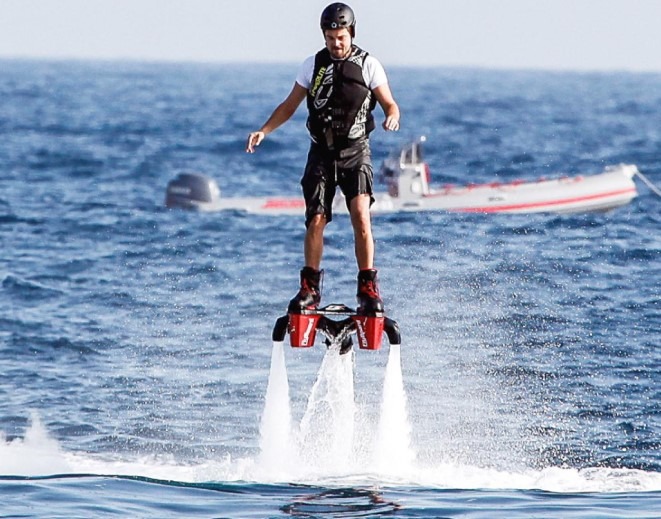 One of a beautiful beach in Nusa Dua Bali is in Tanjung Benoa. This beach is famous for its water sport. The most trending one here is Flyboarding. Playing this water ride, you will feel as if you are the Iron Man.
As a Solo traveler, it is free for you to express yourself. You can act as if you are the real superhero. Flying on the sky with a tube connects to your standing board. The water-spreading gives the effect like the flying weapon of Iron Man. Moreover, you should find the other solo traveler as your new partner. Making new friends is a goal of traveling, right?. You will have superhero combination with your new friend and the enjoyment is getting funnier.
Further, enjoying this watersports experience will be awesome for you. You can do anything as you want as the expression of your traveling freedom. So, will you come here for your next traveling? make sure you will make it brother.
Related Product:
The Hidden Beach, Gunung Payung.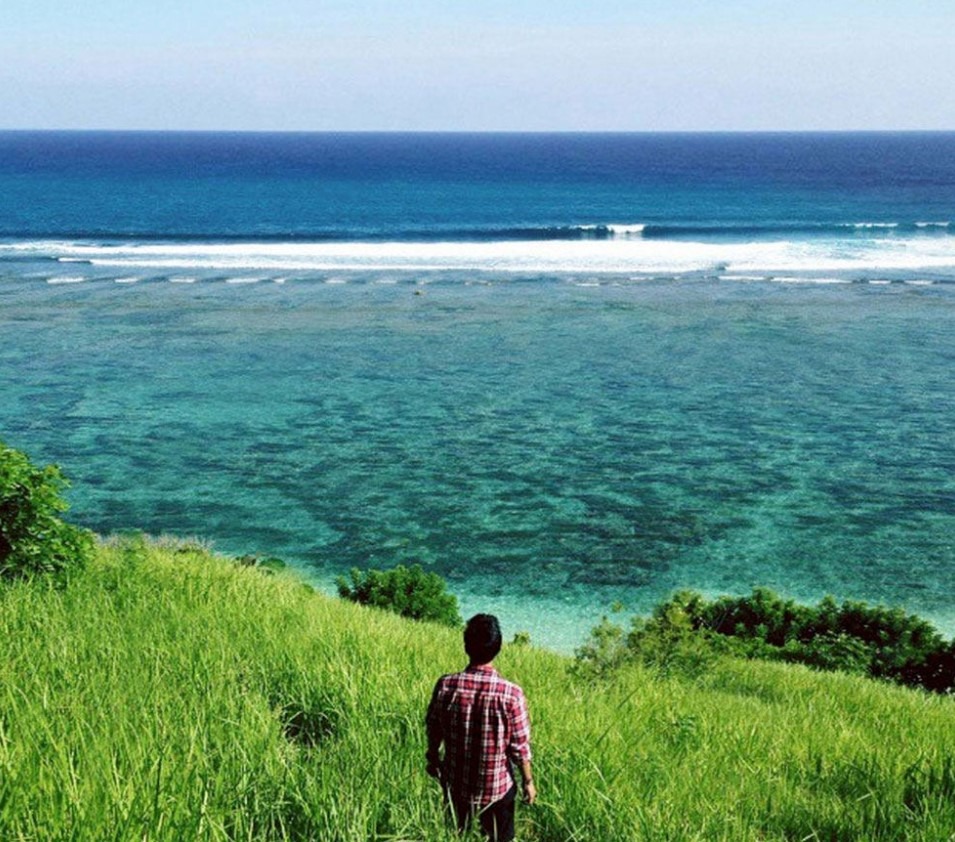 Famous words from Dalai Lama "Once a year, go some places you've never been before". The best sentence to describe your desire of traveling. Finding a hidden place is an untold satisfaction. This beach is located in the east of Pandawa Beach. to find this beach you can ask local people for the direction.
What you can do here in Gunung Payung Beach?. The first thing you will see is the wide sea spread out to the sky. The beach is clean, you can do snorkeling and surfing here. Further, you can learn local wisdom from the people around the beach. Ask them about their daily life and you will get many valuable experiences here.
Well, if you really like to do Solo traveling, don't be hesitate to add Nusa Dua Bali as your next destination. Those above are not only the enjoyments in Nusa Dua Bali. You can explore the place and get the more entertainments in Nusa Dua Bali. Plan your traveling, meet the new people, get new friends, and enjoy the new experience in Nusa Dua Bali.