Must Try Top Things To Do in Ubud
Visiting Bali is not complete without visiting Ubud and here are must try top things to do in Ubud. This destination of Bali is famous for the green natural view. Start from the amazing paddy field terrace until the forest full of monkey. Here you can also find a romantic place in Ubud Bali. This part of Bali destination can be enjoyed with family, friends, and couple. Further, if you want to visit Ubud as a part of your Bali vacation, here are the best recommendation you can do in Ubud.
Awesome Construction of Paddy Field Terrace.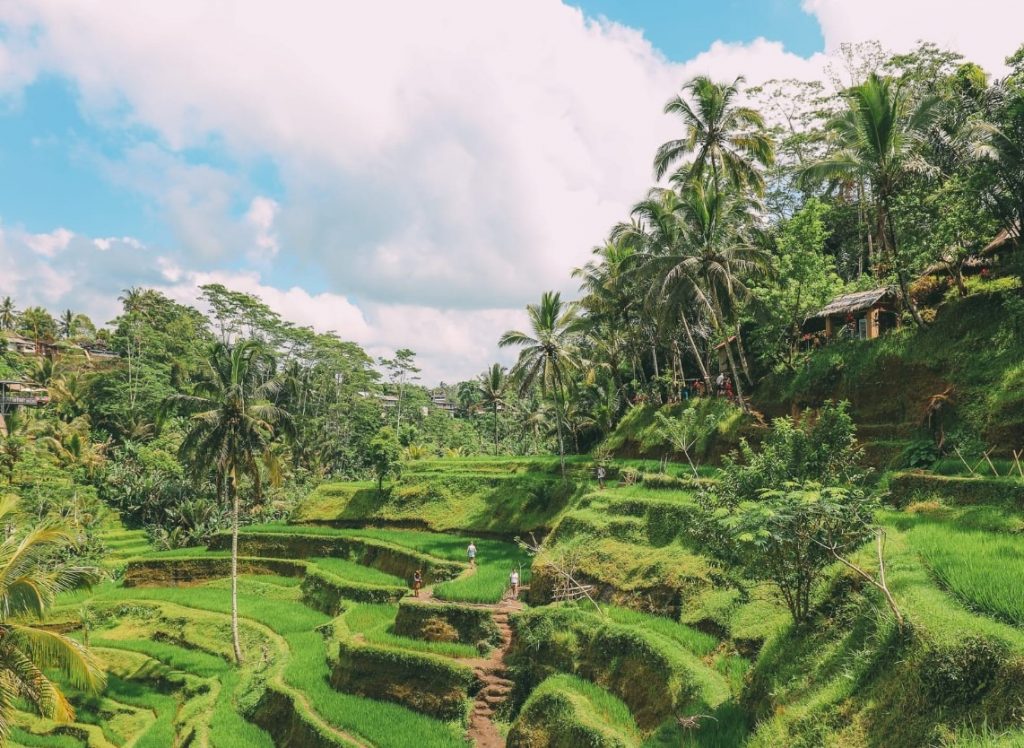 Ubud has many destinations to try. One must destination place to go in Ubud is the paddy field terrace. Here you can enjoy the structure of rice field that you never see before. The construction of the rice field is awesome with the combination of green nature.
There are many paddy field terrace in Bali but one you must try in Ubud is Tegalalang Rice Terrace. Here you can enjoy the green view of the paddy field. The construction of the paddy field like a terrace in a classic football stadium. Moreover, since it is located in a village, the air is also fresh. You can relax your mind here. Bringing family here is a good option to do. You can bring your children and closely introduce them to nature. This Tegalalang Rice Terrace is also appropriate for couples. Here you can take romantic pictures in a romantic green nature.
Related Product:
The Forest of "Darwin" Anchestor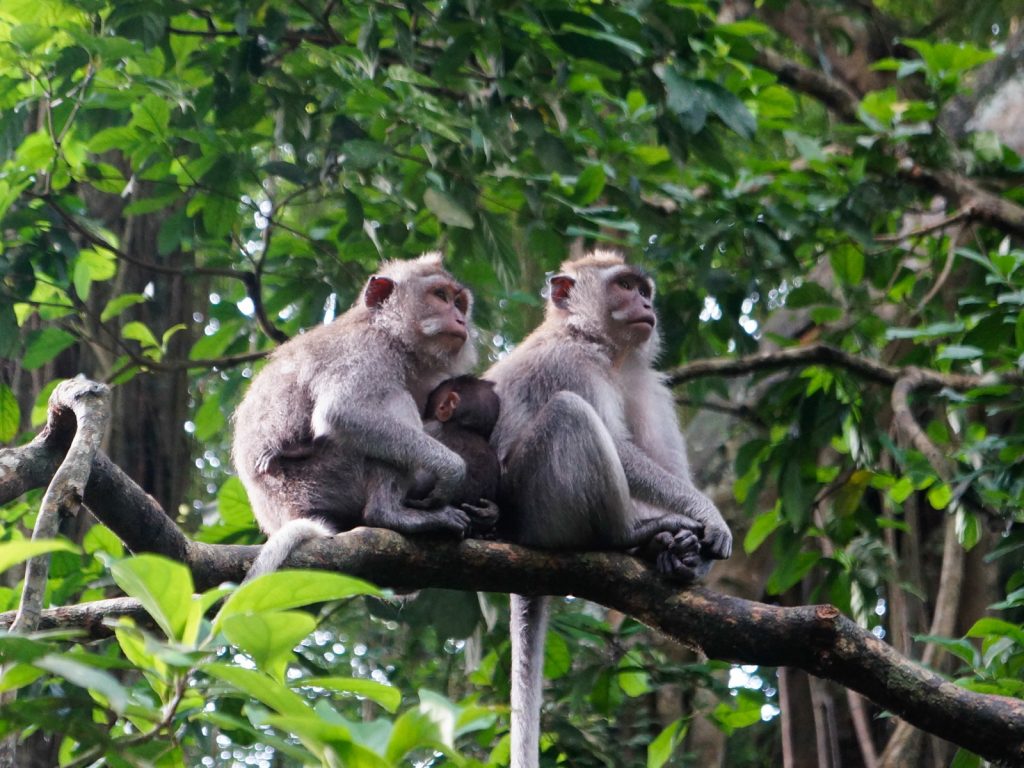 If you have read Charles Darwin's book entitled "The Origin of Species", there is a theory about the human ancestor. Although this theory has many pros and cons, in Ubud Bali you can find the kingdom of this "Ancestor". There is place in Ubud Bali called as a monkey forest.
The name of "Monkey Forest" is given since this 8 hectares jungle is dominated by the monkeys. This small forest is located in Ubud Village, only 25 km from Denpasar. Many foreign tourists visiting this forest every year. Here you can enjoy the beauty of the forest.
One thing you should pay attention more if the monkey. Yap, Of course, the monkey, if you bring food here you should take care of it. Sometimes the monkey will steal your food. Moreover, your stuff is also endangered if you don't stare it well.
Overall, although the monkey here is a little bit "naughty", having a holiday here is awesome. Where again you can enjoy beautiful forest with the Darwin "ancestor" there. Only here, maybe you can imagine how Charles Darwin things about the origin of species.
Related Product:
The Ubud Palace and Ubud Market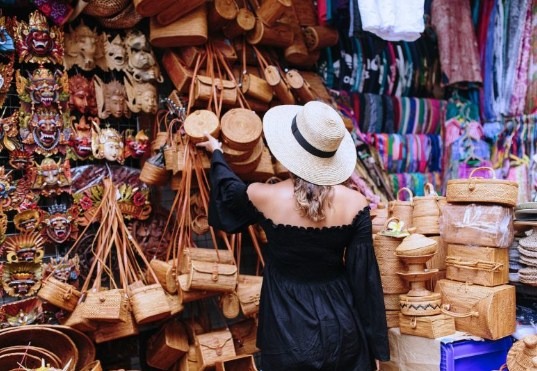 After having kept in touch with the monkey, still in one are you can visit Ubud Palace. Ubud Palace is the official residence of the royal family of Ubud. here you can see the unique architecture of Ubud Palace.
Further, since there are many things to do in Bali, don't forget to buy souvenirs in Ubud market. Here you can buy the authentic special souvenirs from Bali. This Ubud market is an art market. You can choose and buy many traditional handicrafts here. Straw hats, cotton sarongs, crochet, gold and silver jewelry, and many more you can find here.
Not only those ones you can enjoy in Ubud Bali, there are still many destinations of Ubud. Let's continue your Ubud adventure in …….
Romantic Path of Campuhan ridge walk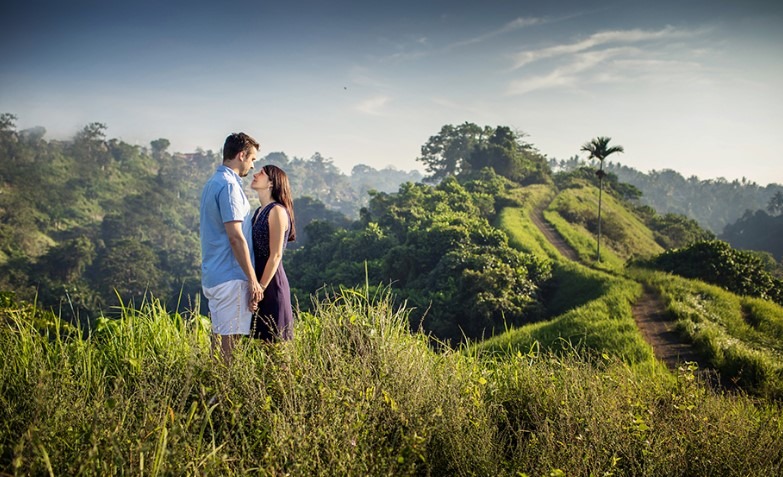 This romantic place in Ubud is very romantic for a couple. The Camouhan peak, it is a peak with a romantic path and romantic view. This Campuhan peak is outstanding as Campuhan Ridge Walk around the international tourist.
This scenic peak location is in Ubud, Gianyar Bali. it is still in one location with Gunuh Lebah Temple (Pura Gunung Lebah). After passing the temple you will a direction to the Campuhan peak. Then the next you must do is trekking. It is only 15 to 20 minutes to reach the peak. Further, what you find is only the beautiful view of the Campuhan ridge walk. The path is surrounded by the green grass. It is so beautiful and romantic.
For you all in romance, the best time to enjoy this place is in the morning. The green view and the sunrise are the is addictive. For more information, you can enjoy this Campuhan ridge walk on foot or use a bicycle. There you can rent a bicycle to enjoy this peak. Further, mineral water is also important. You will do romantic trekking, right? Don't let dehydration destroy your moments.
Watch the Kecak Dance in Saraswati Temple (Pura Saraswati)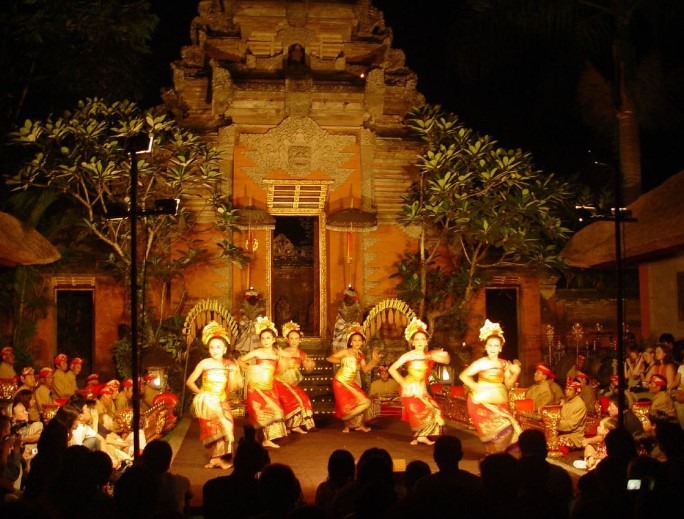 Visiting Ubud is not complete without watching Kecak Dance. It is a traditional dance of Bali. Actually, there are many places in Bali provides Kecak Dance as the attraction. Of Course, Pura Saraswati is one of the best places in Bali which has Kecak Dance as the attraction. It is also a recommended place to see Kecak dance since it has Lotus pool around it.
The show is in the middle of Pura Saraswati. Around the showplace, there are many Lotus pond. It adds the exotic view of the dance. So, if you are in Ubud, don't forget to see this amazing Bali Traditional dance. For more information, the show usually starts on Thursday at 07.30 p.m.
Balinese Traditional Food Cooking Lesson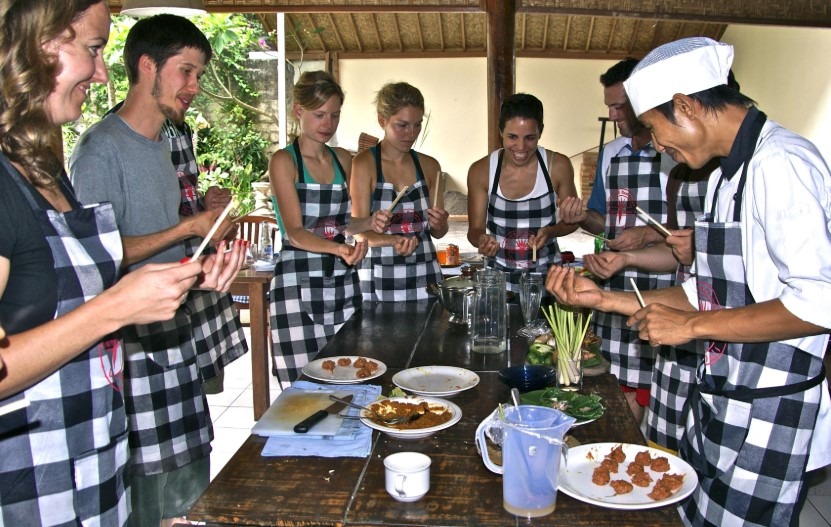 Bali is also famous for the cuisine. Its traditional food is tasty and makes travelers want and want to try it. Further, in Ubud, you can bring your children to try Cooking lesson. Many hotels in Ubud offer a lesson for cooking Bali traditional food.
Here you can try to cook your own Bai traditional food. If someday you miss Bali and don't have times to visit Bali, you can make the traditional food. Your own Bali handmade traditional food will cure your miss of Bali. So, it is interesting for you? Just try it, travelers.
Last, Bali and especially Ubud will always ready for every single enjoyment. Your satisfaction, fun, and happiness are proud of Ubud. Don't be doubt to visit Ubud, you will get unforgettable and the best moments of your vacation here. Happy holiday in Ubud travelers.
Related Product: