Luxury Hotels Bali; Stay with the Premium Service and View
All the luxury hotels Bali are worth to stay. Whenever you come to Bali, the second important thing is the accommodation. Everyone knows that Bali has countless attractiveness. Moreover, each of them is ready to satisfy your desire upon challenging things. You may push and pump both your adrenaline and energy whenever you visit the Balinese attractions.
After spending lots of your energy, you need to recharge it again. If you want to get your energy back fully, you need a good rest in a good place. All of the hotels, resorts, and villas in Bali offer you such great place and service. However, your body needs a little reward after doing lots of things. Give yourself a reward in luxury hotels Bali. Otherwise, here are some best recommendations for you to pick. Check these out;
Viceroy Bali

Every part of Bali is worth to explore. If you browse it on the internet, each region in Bali has lots of attractiveness. For your brief information, the most visited places in Bali are Kuta, Seminyak, Ubud, Nusa Dua, and Jimbaran. However, there are lots of regions besides those five places that have amazing objects. Let's we discuss Ubud first. This region is famous for its cultural and natural diversities. You may explore lots of things from the rainforest exploration in Sacred Monkey Forest, till the cultural trip to the Ubud Royal Palace.
If you're such a homey person and try to limit your interaction with another people, then stay at Viceroy Bali is perfect. This five-star hotel has a high-class service and amazing natural view. You don't need to walk out of the hotel just for enjoying the fresh Ubud environment. Located in the high place, Viceroy Bali promises you with excellent greenery scenery and Petanu River view. Refresh your body in the private outdoor pool. The pool has a direct view to the green view.
Conrad Bali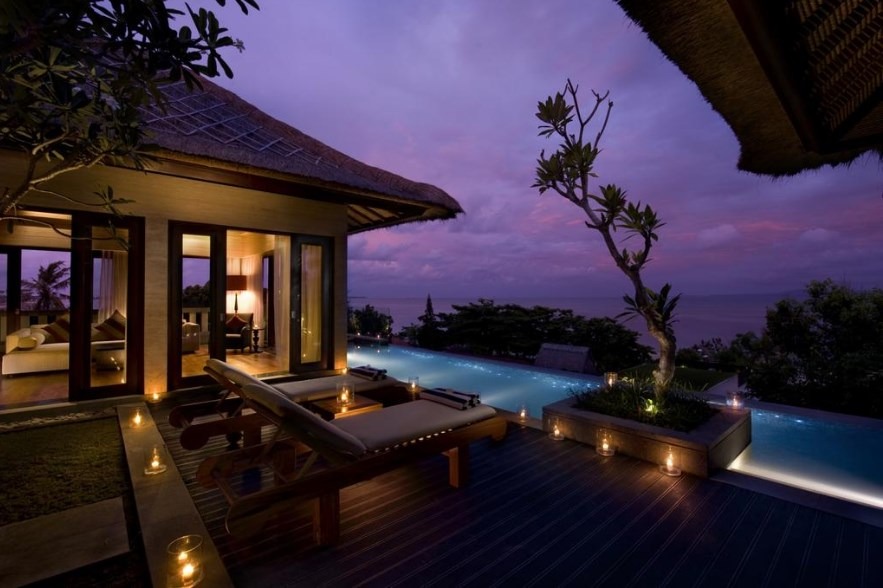 After exploring the fresh and green nature, we will drive to the amazing beach. Nusa Dua Bali is one of the regions that has amazing beaches. Besides the view, this place has lots of water sports that will make your adrenaline rush.
Nusa Dua has a premium place to stay as well. You may directly come and book the service in Conrad Bali. You can reach this hotel just 15 minutes from Ngurah Rai Airport. When you stay here, you'll get a complete premium place to stay and services. The location is right before the beach, which means you'll get an easy entrance to it. You'll get to try lots of challenging water sports in here. Moreover, Conrad Bali has many children activities. So, you don't need to worry if you bring along your little ones.
The St Regis Bali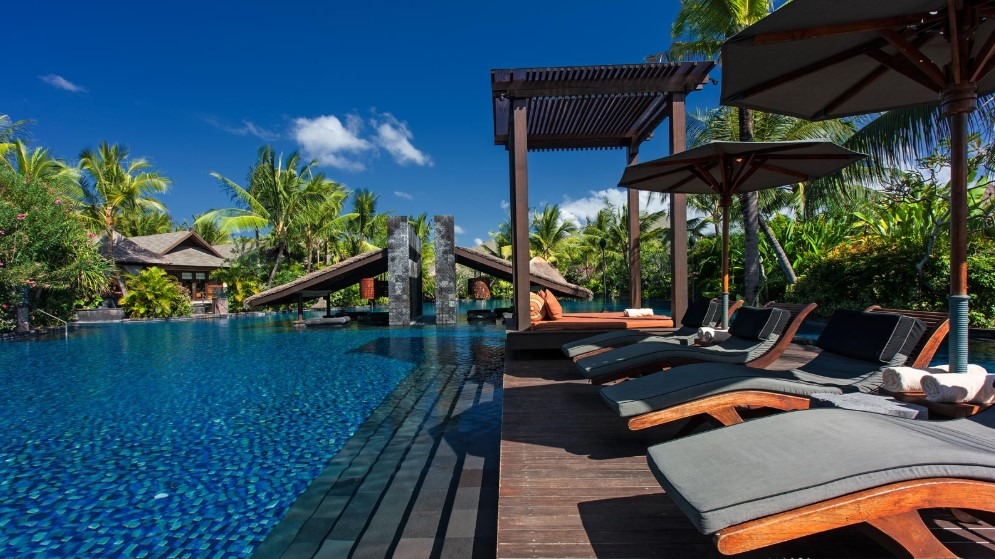 Bali never stops satisfy its visitors. Each year, this place has turned into a great place for everyone. Each of regions tries to upgrade its tourism objects. One of them is Nusa Dua. This area is near the ocean, which means Nusa Dua is gifted with a magnificent beach. Moreover, you may have a close access to the beach is you stay near it.
Another luxurious hotel in Nusa Dua is The St Regis Bali. Entitled with the five-star hotel, you'll get a perfect accommodation with the excellent services as well. The view is far from doubtful. You'll get a close view of Geger Beach if you book a room in here. This hotel is the best hotel in Bali for honeymoon. With a private pool, you may have an intimate time with your lover. Besides the romantic vibe that is perfect for the lovebirds, the decoration will make the art enthusiasts excited. The architecture is the combination of modern and Balinese art. These combinations create a great atmosphere that'll make your rest time excellent.
Hotel Tugu Bali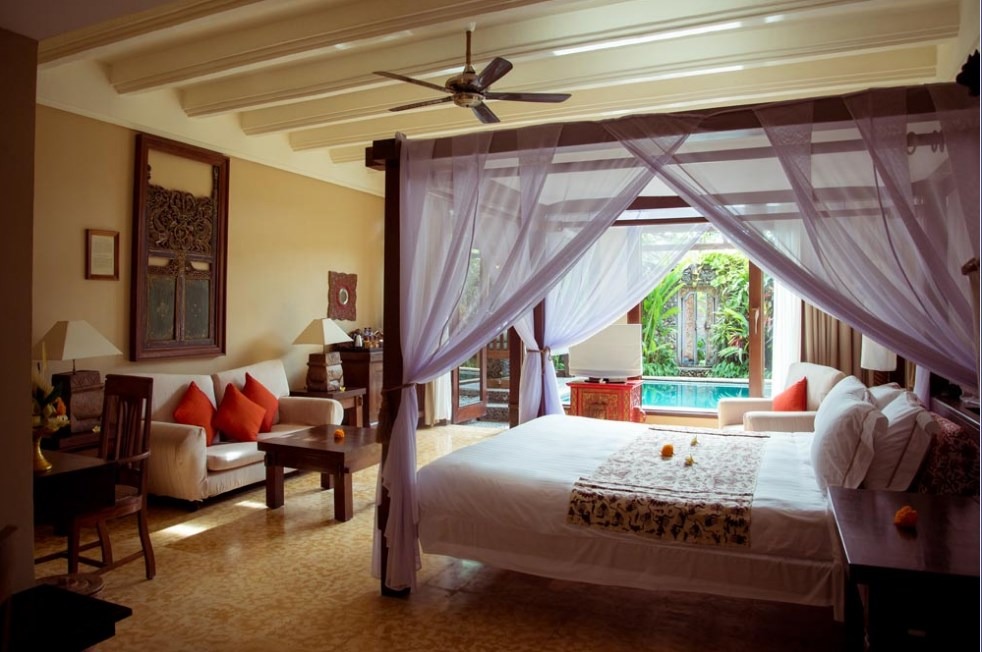 Some of the places in Bali like Kuta or Seminyak are the popular place to visit. Consequently, those areas are quite fussy to handle. Kuta and Seminyak are indeed lovely, however, not many people want to spend their precious holiday in a crowded place. So, for you who like quite place yet, still has a great view, you may come to Canggu. This region is not far from Seminyak and Kuta. The most important is this place has several amazing beaches. Compared to others famous beaches in Bali, beaches in Canggu are quieter.
If you're afraid that Canggu doesn't have a great accommodation, you're wrong. Hotel Tugu Bali in Canggu is one of the luxury hotels Bali. This hotel has known all over the Bali as the premium five-star hotel. The decoration of the hotel is a bit artistic. Once you walk into the lobby, you'll spot a real Barong costume and a giant Chinese vase. The room is not far from the ethnic vibe. Your room would be quite spacious with teakwood furniture and some great painting. A cooking class in Hotel Tugu Bali is signature of the hotel. You can learn how to cook some Indonesian traditional food here! You'll get to learn from the very beginning, which you'll come to the market and buy your own ingredients until serving your own dishes.
The Chedi Club Tanah Gajah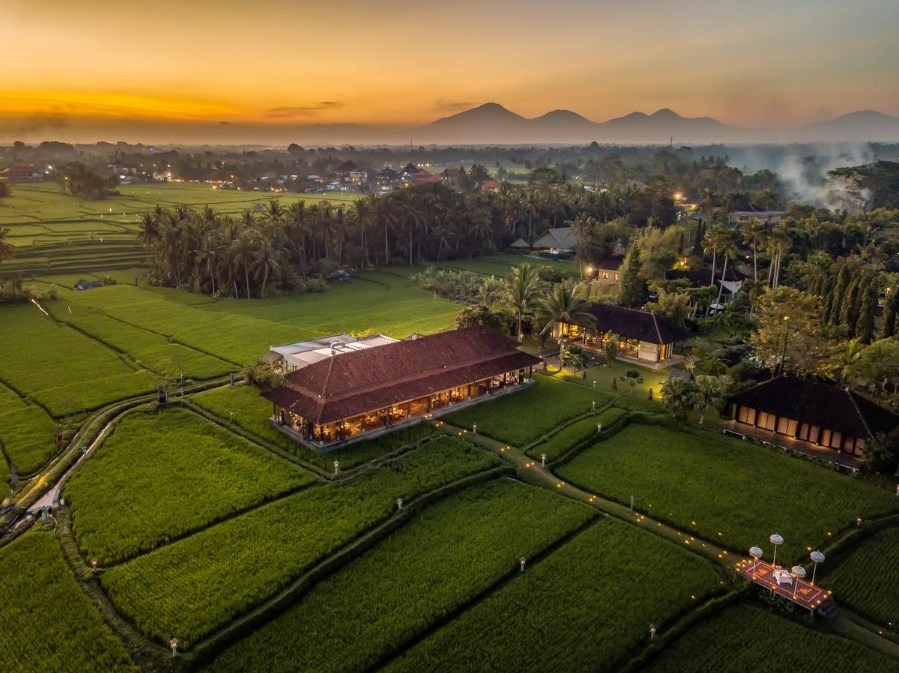 Let's we back to the heart of culture, Ubud. Another attraction that you can see in Ubud is the rice field. You can spot lots of traditional vibe in every inch of Bali. However, the thickest one is in Ubud. The rural life here is too good to be ignored! You definitely cannot miss the natural attraction in here. You will see the great combination of humble local residents and the traditional culture.
If you want to experience these kinds of things, you may stay at The Chedi Club Tanah Gajah. The hotel lay in the middle of the large paddy field. Even though it is near the paddy field, the hotel is still serving an extraordinary service. This five-star hotel won't make you disappointed. Moreover, all the rooms are internationally standard with the local vibe. Each room has a spacious area and amazing natural view. Do you want something different? Swimming at the outdoor pool would be great. The pool in The Chedi Club Tanah Gajah is different from any other pool. It is surrounded with tropical garden and of course the paddy field.