Find The Unforgettable of Places to Stay in Seminyak
There are many Bali resorts Seminyak which offer an unforgettable experience to stay in. As one of the main destination in Bali, Seminyak attracts the attention of worldwide tourists. The beach, the attraction, the street food and the coffee make it outstanding around the traveler. Its perfect combination creates a great magnet to seduce people coming in.
Further, with those all enjoyments, no wonder this Bali destination is always on the top list on Bali vacation. Understanding the need for a perfect facility in a perfect place, there are many resorts to stay in Seminyak. All of them offer the best service to you. Then, you will have a question, "which one is the best one?". Finding the best one of the best ones is a little bit difficult. But, don't worry, the following will gives you the best choices of Bali resorts Seminyak with Impressing experience.
The Legian Bali, a Seaside World Class Resort

If you look for a seaside beach class resort, The Legian Bali is your first solution. Located only 2 minutes from the beach, this accommodation is a perfect place to stay in. Especially for the beach lover, The Legian Bali will satisfy your desire for the exotic beach.
The room facility is complete and recommended to stay in. It has a 32 inches Flat TV inside. The personal balcony is also nice to relax. Facing directly to the ocean makes it more comfortable to stay. Then, let's have a look to the bathroom. Complete with shower, clean, and also has a double bathroom sink. Besides the nice and comfortable room, let's see what you can enjoy here. This accommodation offers an outdoor swimming pool facing the ocean. Relax and having sunbathing on the seaside is the best way to get an exotic skin. You can also explore the tropical park while having a vacation here.
Furthermore, if you want another option of activity, just join the yoga club. Get relax and calm for your mind with it. You can also keep your body fit in the gymnastic centers. Moreover, the restaurant offers western food for your food. Wine and cocktail are also able to try while having a nice view of the ocean. In addition, to visit this accommodation you only need 15 km drive from Ngurah Rai International Airport.
Anantara Seminyak Bali Resort, Only a Minute from Beach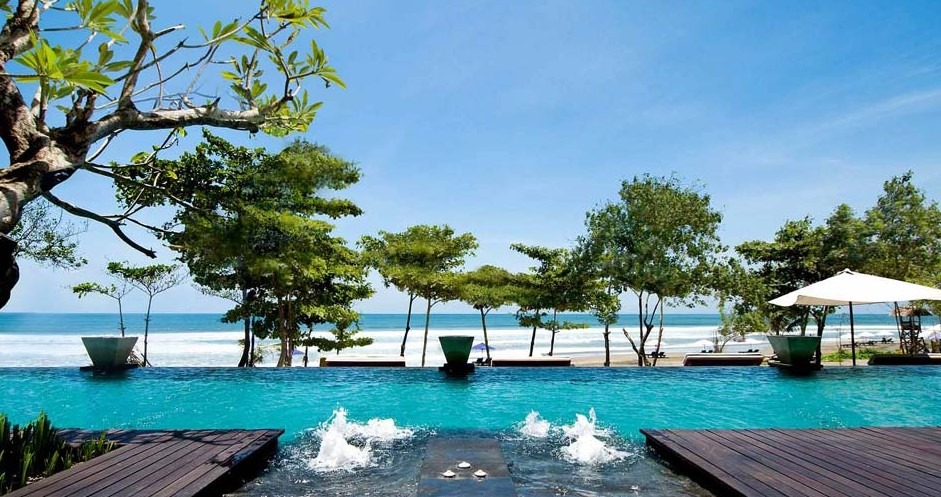 If you read on Tripadvisor the Seminyak beach resort & spa, you will have Antara Seminyak Bali Resort on the ten top lists. This accommodation is only a minute from the beach. Offering a nice view of the beach you should take into account this Seminyak accommodation.
Entering the room you will get the nice and comfortable bedroom. The personal balcony is appropriate to keep yourself relax. Look at the bathroom, it is comfortable, clean, well-taken care. The wooden floor makes you feel at the best luxury resort of Seminyak. Then, don't forget the room amusement facility. TV and wifi connection are ready to accompany your bedtime.
Furthermore, another attraction can be enjoyed too. Having spa or massage is nice to keep your mind and body relax. You can also try the yoga class for calmer and relax experience. The delicious cuisine is also ready to serve you and satisfy your desire for tasty food. You can enjoy the Asian and International dishes while having a perfect view of Seminyak beach. In addition, this accommodation is also close to some Seminyak outstanding landmarks. Petitenget Temple is only a few minutes away if you want to reach it. for a shopaholic, Seminyak square shopping mall is ready to welcome you only a few minutes from Anantara Resort.
Alila Seminyak, Nice Accommodation to Enjoy Sunset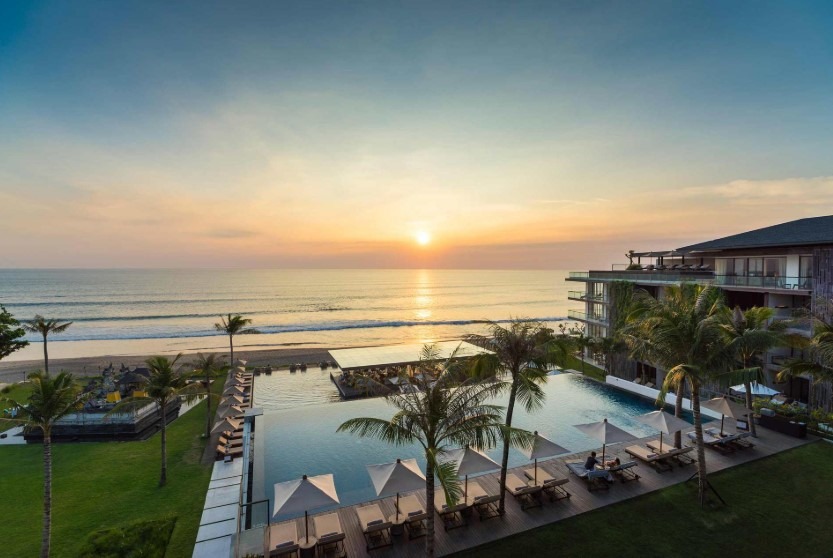 One more option of your best Seminyak resorts, Alila Seminyak. This five star Seminyak accommodation offers a perfect facility to stay in. Located on the seaside of Seminyak beach you can enjoy the beach directly from the resort. Having a relax time at the edge of the swimming pool and enjoy the sunset is the bonus of staying here.
Beside the swimming pool and sunset, the room is nice and comfortable to stay in. A free wifi connection keeps you online to the internet. The room has a luxurious design so can feel happy to stay in. Flat TV and air conditioner are also provided. Then, in some rooms, you can find a personal balcony to have a relaxing time.
Further, you still have another facility to make your vacation more comfortable. If you want to explore area surrounding, pick up service is available. Luxury and delicious food are also available to spoil your tongue. Not only those ones, you can also enjoy the spa and massage after your log activity. In addition, this accommodation is close enough to Petitenget Temple and Seminyak Square. You can reach them only in a few minutes even you o it on foot.
The Trans Resort Bali, Stylish at The Center of Seminyak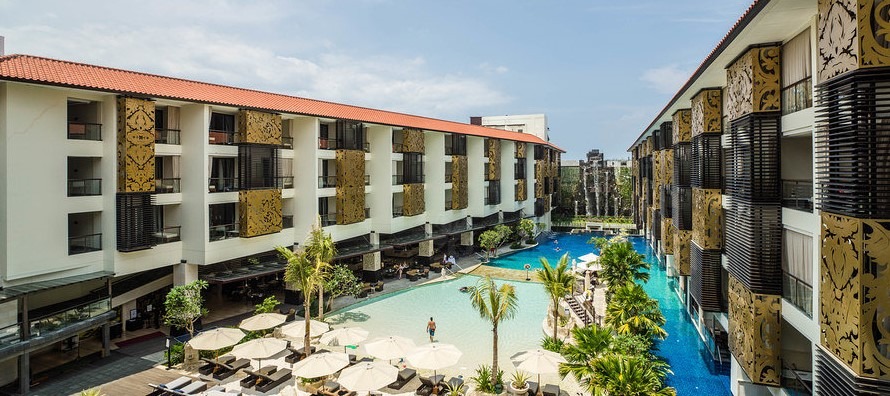 On the next list, you can count The Trans Resort Bali to stay in. This accommodation located at the center of Seminyak. With its stylish design, you will like to stay longer here.
The room facility is complete with wifi connection, TV, Air conditioner, wardrobe, and any other furniture. It is also comfortable and you will feel at home. The bathroom is also nice since it is well-taken care of too. It has a shower, bathtub, and any other free bathing tools. Further, another facility such as pick up service, restaurant, and swimming pool are ready to satisfy you. Enjoy the swimming pool with your couple or family and you keep relax at it.
In addition, if you want other option of food, just explore area surrounding. Many food courts can be found only by walking around. The taste is very tasty and addictive. Moreover, this accommodation is also close to Seminyak Square Shopping Mall. You can go there even if you do on foot only in a few minutes.
Montigo Resorts Seminyak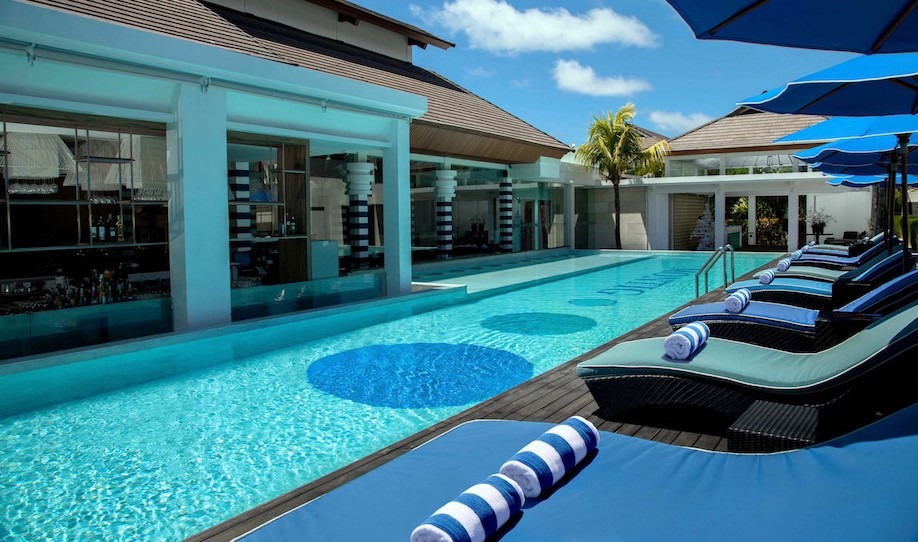 On the last list, you have a highly affordable resort named Montigo Resorts Seminyak. This accommodation also offers a complete facility to stay in. With complete room facility, everyone will like to stay here. Free wifi connection is also provided to you.
Further, you can enjoy swimming in the swimming pool. The room is clean, comfortable, and well-taken care. The bathroom is also nice with a shower and bathtub. Of course, it is also clean to make the visitors comfortable. Spending a honeymoon visit and even family trip is appropriate here. Never miss this accommodation when you are in Seminyak with your best people around you.
Seminyak always comes with many options of enjoyment. The facility is also nice and makes every single traveler like to stay longer. Choose the right accommodation in Seminyak and you will get the most impressive traveling trip there.