Explore The Best Places to Stay Around Canggu
Looking for Canggu Bali Hotels to stay in Canggu? You have many choices where you have to stay. As a popular place in Bali, Canggu has many attractions to visit. The natural panoramas always become the magnet to all traveler. Especially on the beach, it is awesome with all the exotic view. You can do many things here in Canggu. From enjoying the beach, surfing, or even watching the sunset with your sweetheart. All you will get in this Bali popular place is never ending happiness.
With all the magnificent panoramas, no wonder many people always put this place on their vacation list. A lot of facilities have been provided to facilitate your visit to Canggu. Hotel, restaurant, and cafe are complete. Further, to stay longer here in Canggu you have to find your best hotels. The following gives you information about where to stay in Canggu Bali.
Aston Canggu Beach Resort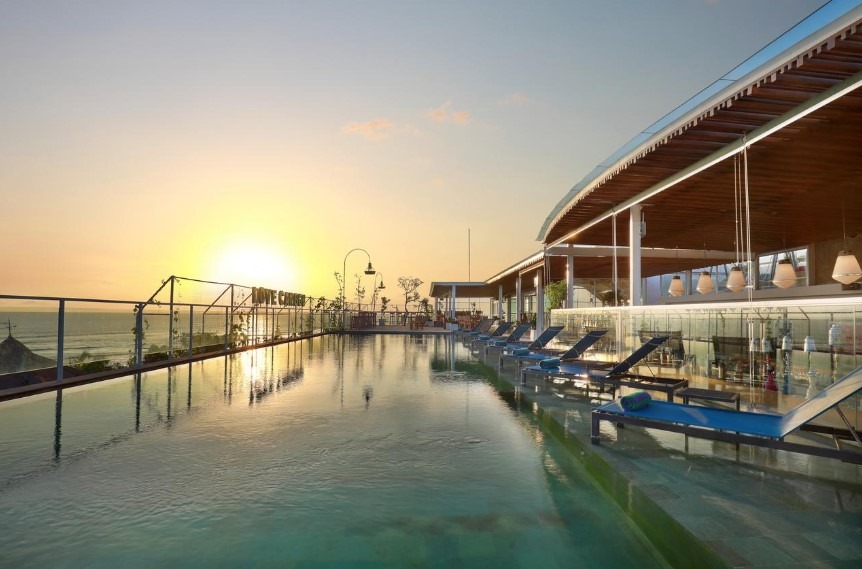 A nice and comfortable resort to stay in Canggu. Aston Canggu Beach Resort offers a complete facility to stay in. This modern accommodation has all the hospitality need for satisfaction. The room, the park, the swimming pool, and the service come with the high-class level.
Take your key and enter the room. You will face the best room you have ever seen. Further, the balcony is nice to have a relaxing time. You can take your coffee or tea while having Canggu nicest view. It is also complete with TV and shower facility. The bathroom is well-taken care and comfortable to use with a complete facility like a hair drier and any other bathing tools.
Furthermore, it is not only about the room facility. You can enjoy the swimming pool with your traveling partner. The view of the ocean will be your background. Where again you can experience much of this amazing experience in Canggu if not in Aston Canggu Beach Resort. Moreover, since it is close to the beach you can enjoy some beach activities. playing water, surfing or having sunbathing are perfect here. In addition, Batu Bolong beach and Echo beach are only a few hundred meters away.
Kampoeng Villa Bali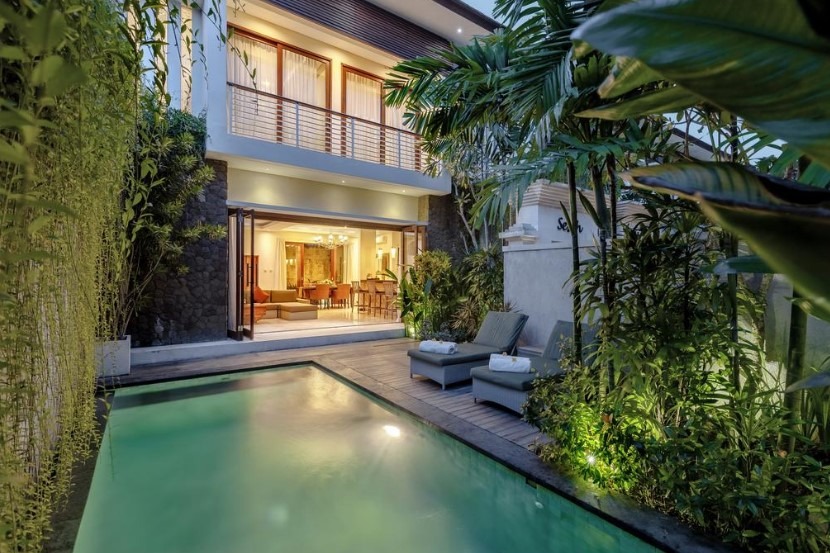 On the next option, you have Kampoeng Villa Bali. this destination also has the interesting facility to stay in. Relax, comfort, easy, and nice are the words to explain how nice the facility here. Complete with wifi connection makes you stay connected to the internet. Free pick up service is also available to visit Seminyak area.
Further, let's see how comfortable the room is. The personal balcony is the best place to relax while seeing the personal swimming pool. You will also get a TV and DVD player. The dining room and small kitchen make you feel as if you are at home. Then, let's check your bathroom. The facility complete with the bathing tools you need.
In addition, if you want to visit the famous destination surrounding you can visit Canggu and Berawa beach. The destinations are only 10 minutes away. To reach the airport you only need 40 minutes drive from Kampoeng Villa Bali.
Canggu Beach Apartments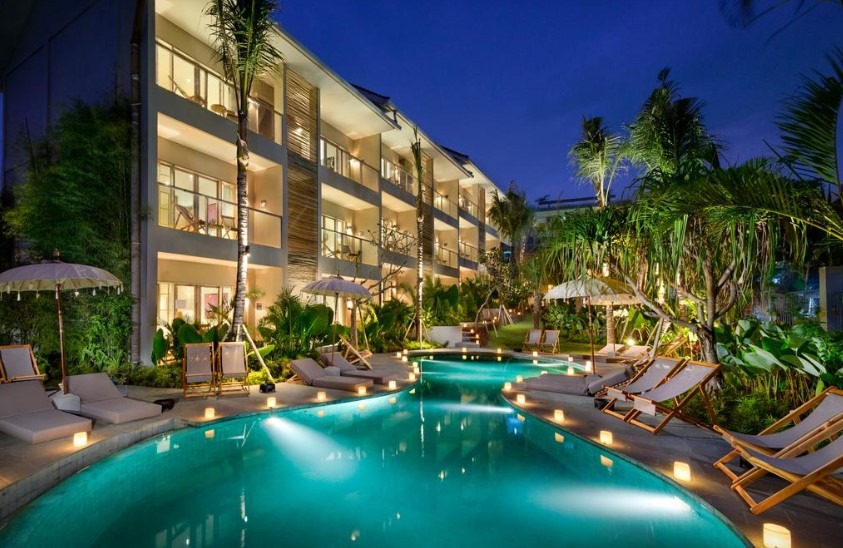 One more option for your stay in Canggu is Canggu Beach Apartments. This accommodation comes with a swimming pool and a tropical park. Besides the nice view, it is also located near a beach. With the beach, swimming pool and tropical park around you, it has a perfect panorama to stay in.
Not only the view, of course, the facility is nice and complete. Let's start with the service you will get. Besides the swimming pool and the tropical park, you will get the room service facility. You can order food and ask to deliver it to your room. Further, if you want to explore the area surrounding, using a bike is nice to do. This accommodation provides bike rental so you can rent it and feel another sensation of travel.
Furthermore, the main attention of every single hotel is the room. Don't worry about the room facility. It has a large dining room so can feel comfortable to have dinner here. Personal balcony with a nice view is also available in some units. The shower facility is also nice. It is complete with shower and hair drier. Don't forget the other furniture. Refrigerator, stove, wardrobe, and any other else are ready to use.
Ecosfera Hotel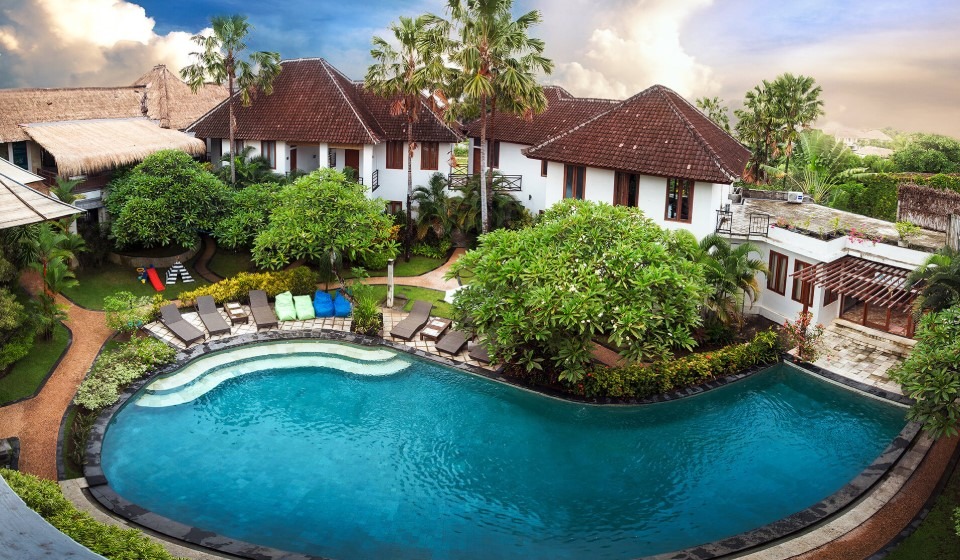 On the fourth list, you have Ecosfera Hotel to stay in. As with other accommodation in Canggu, this hotel also has a nice comfortable facility to stay in. This accommodation is complete with a swimming pool in the middle area. The park around the swimming pool gives relax and comfort feeling.
What do you think about the service facility of this hotel? It is complete with sauna and yoga class. The sauna is free and the Yoga class is a perfect choice for your emotion control. The other facility is the massage and spa. Keep fit and fresh with it for your long activity in Canggu. Don't forget the dishes. Taste the international cuisine with a special touch of Asian cuisine. It is yummy and extremely delicious.
Furthermore, you have to know what is inside your room. As a recommended hotel, of course, the room is nice and comfortable. You will like to have deep sleep on the bed. Complete with refrigerator make you easier to save your food. Then, the bathroom has a bathtub, shower, hair drier, and bathing tools. Never miss the balcony. You can see beautiful panoramas from this relax spot.
Udara Bali Yoga Detox & Spa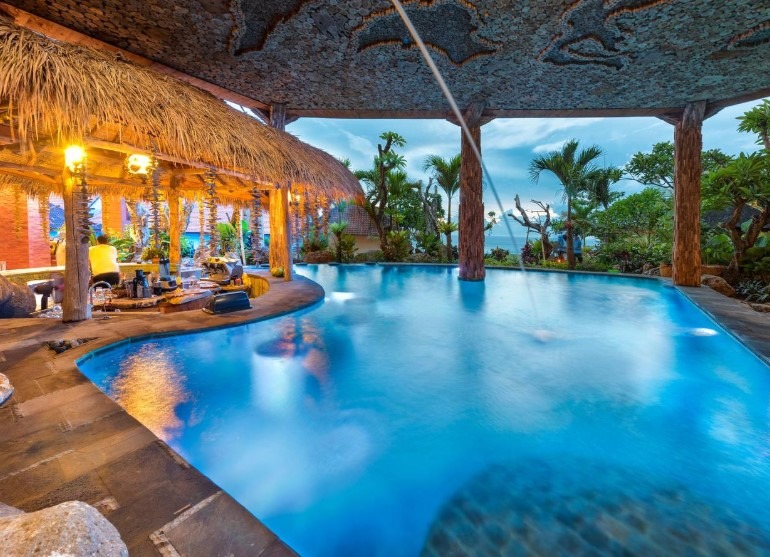 Last, there is Udara Bali Yoga Detox & Spa which is ready to serve you with special the special treatment. As the name, you can guess that this accommodation offers curer as the main attraction. Heal all your mental sickness with Yoga and meditation.
Besides offering curer, it also has another awesome service to try. From sauna, Watsu Pool, and even Hot and Cold Whirlpool are ready here. Bringing healthy concepts, this accommodation is perfect for a vegetarian. Healthy food is the main dishes you can taste. Another option, you can do a herbal steam bath and even meditation. Furthermore, don't skip what facility inside your room. Comfortable room with traditional bungalow style on the touch of Bali tradition is ready to accompany you to sleep. It is also complete with a personal bathroom and air conditioner.
Canggu always comes to be a magnet for every single Traveler. It offers beauty and complete facility. With it all, every holiday, every visit, every single Traveler, and even every single breath in Canggu is full of the perfect holiday experience.