Board onto the Luxury Bali Hai Cruise Ship and Head to the Fun at Nusa Lembongan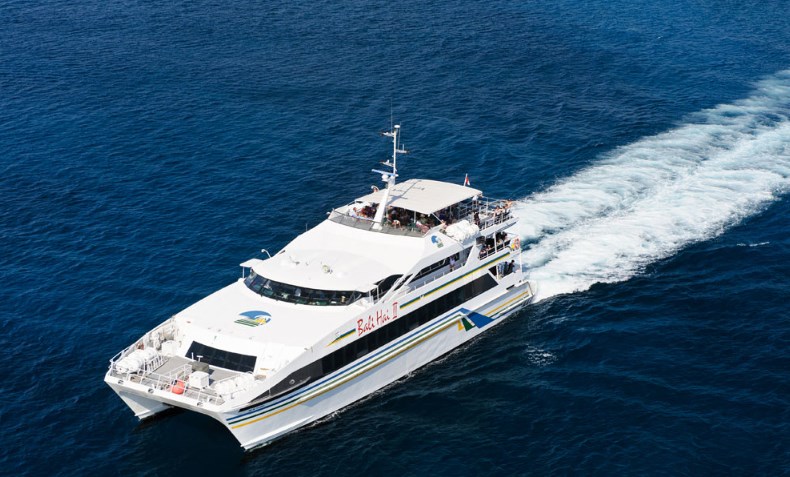 Bali Hai Cruise is the best choice if you want to feel the great vacation in Bali in such different way! While most travelers stay in the southern coastlines of Bali, you can distinct yourself and try different activities. Go explore Badung Strait by joining a cruise. There are numerous cruise ship dropping their anchors in Benoa Harbor or the other marinas in Bali. One of them is Bali Hai Cruise. This white huge cruise ship takes its passenger to the gorgeous, Nusa Lembongan, one of the beautiful three-sister islands of Bali. What to know more about this trip? Read up to learn more about Bali Hai Cruise before purchasing your boarding access.
What You Need to Know about Bali Hai
Aiding the unforgettable Lembongan Island day trip, Bali Hai Cruise has been operating since 1990. Pretty long, huh? That's why you don't need to worry about the quality of their excellent services. Their day cruise to Nusa Lembongan is packed with fun activities for the whole family. It has some excitements for everyone, children and adults alike. For the regular day cruise, there are two packages that you can choose from: the Lembongan Reef Cruise and Lembongan Beach Club. Both offer some exhilarating Bali water activities, fun, and relaxation.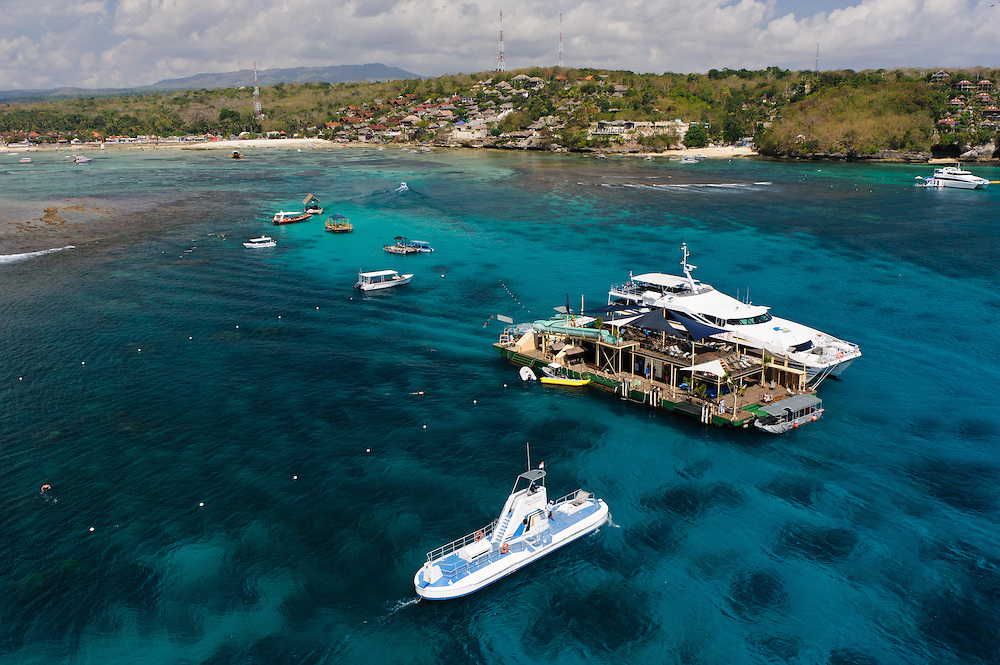 Each package is completed by hotel transfer service and coffee break. For the Reef Cruise, the luxury Bali catamaran, Bali Hai II, departs each day at 9.15 a.m. Central Indonesian Time (UTC +8) to the pontoon off Nusa Lembongan. There are lots of fun-filled activities for the whole families, and the fancy lunch served buffet style will be ready on the cruise ship where you can gratify your hunger after spending an exciting day around the pontoon. The package covers accesses to the mini submarine, unlimited banana boat ride, 35m water slide, snorkeling equipment hire and diving board, locker, and Lembongan Village Tour.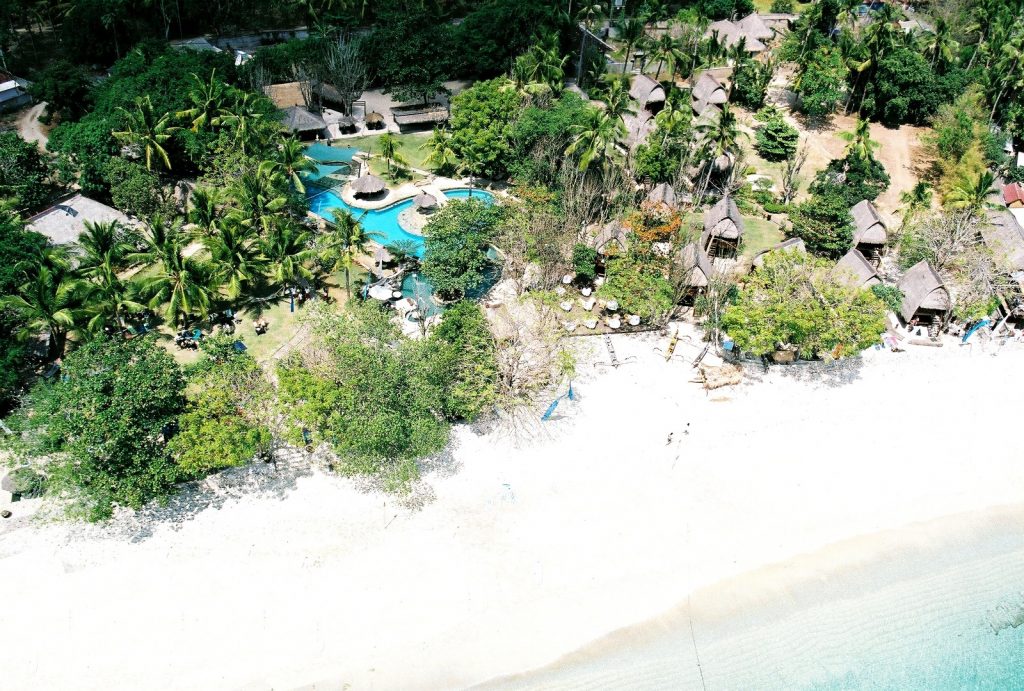 As for the Beach Club Cruise, you'll transfer to Mushroom Bay from Lembongan Bay to feel the unspoiled charms of the peaceful beach club in Lembongan Island. Spend your idyllic day with full privacy and serenity while experiencing various fun activities. By joining this Beach Club Cruise, you'll get the chance to board into the semi-submersible coral viewer. Also get the accesses to join Lembongan Island Tour, play beach and pool games, challenge your adrenaline with unlimited banana boat ride, and try snorkeling as well as sea kayaking. Children's club is also available inland.
Why Booking Through Wandernesia
In this modern world, everything can be done digitally. It's applicable for booking your access to fun activities when traveling too. Wandernesia offers travelers a simpler and easier way to join lots of exciting activities in Bali with the best prices guaranteed. Through your mobile phone or your PC, you can contact the professional staff that will handle your request well. With few clicks, you'll get your response soon. Still not sure about the activities? Wandernesia also provides free consultation with local expert that will give you the best recommendation. So, trust your holiday in Bali to Wandernesia.
How to Get to the Marina of Bali Hai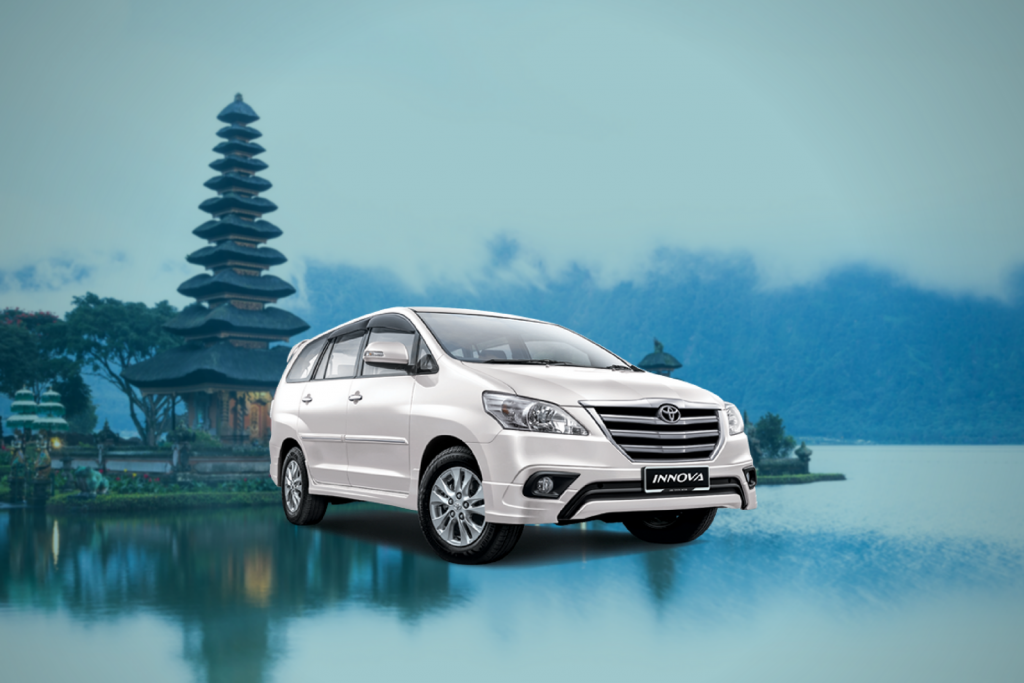 Use the complimentary pick-up and drop-off service.
Hire private car. You can head to Dermaga Tanjung Benoa, Wahana Tirta 1 St., Benoa, Denpasar Selatan, Bali.
By taxi
Packages & Prices
PACKAGE OPTION

RATE PER PERSON

Adult

Child

BALI HAI LEMBONGAN REEF CRUISE

$114 $104

$77 $70

BALI HAI BEACH CLUB DAY CRUISE

$114 $104

$77 $70
Things to Do
In both packages, there are plenty of exciting things to do. Make sure you get the best you can get while joining this cruise with the luxury catamaran Bali Hai II.
1. Enjoy various Bali water sports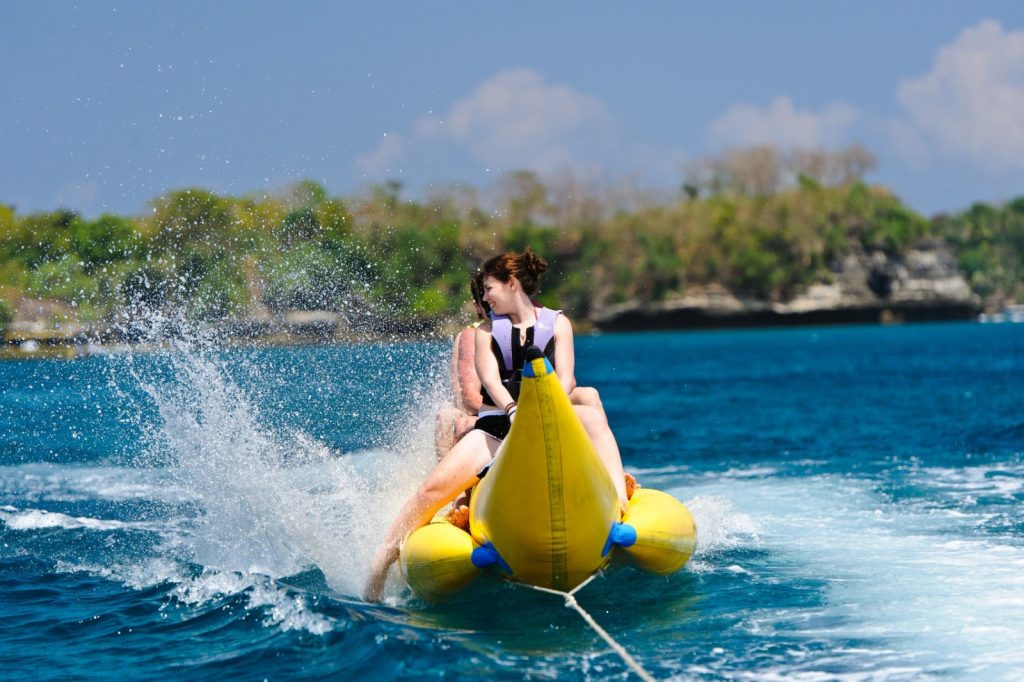 No matter which package you choose, you'll get the access to ride the speedy banana boat as many times as you pleased. But, don't waste your leisure time by banana boating again and again as there are much more to do. While you are in the pontoon area, try the fun 35-meter water slide that will get you directly to the sea. If you join the Beach Club Cruise, you can even experience sea kayaking on the crystal-clear sea water of Lembongan.
2. Plunge yourself into the ocean underwater world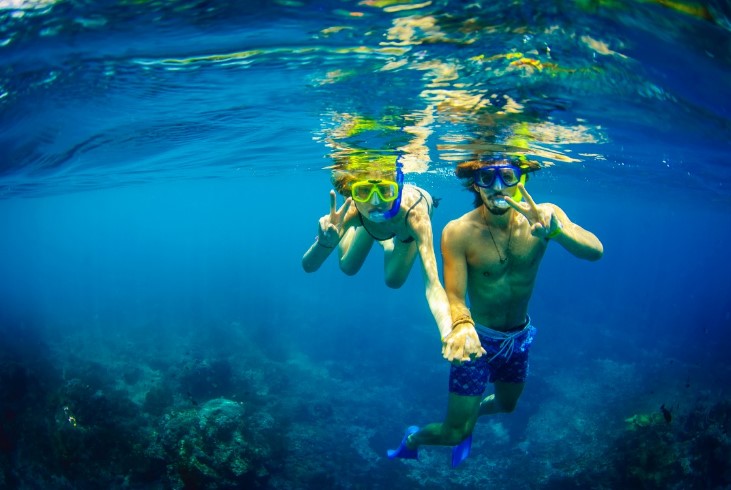 Satisfied in exploring the surface? Go below! Lembongan's underwater world is as stunning as what it looks like above the surface. The best way to explore the ocean and admire the coral reef and tropical fish is by snorkeling or diving. But, those two activities usually require a good swimming skill. How if you can't swim? Don't worry; you can still enjoy the scenery. Board into the mini submarine (for Reef Cruise) or semi-submersible coral viewer (for Beach Club Cruise). From the transparent glass window, you'll be able to observe the underwater, with coral reef and tropical fish swimming nearby. No need to be able to swim, and you even won't get your clothes and hair wet.
3. Chill out and relax at the beach club in Mushroom Bay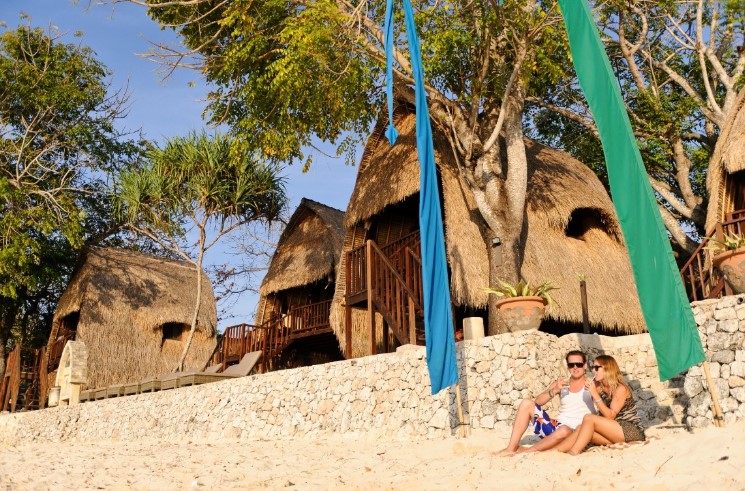 This activity is only for the guests of Lembongan Beach Club Cruise package. After arriving in Mushroom Bay, sit back and relax on the beach with golden sand while you pamper your eyes with the mesmerizing view of the sea. Or, you can get another mean of relaxation in the hammocks placed in the tranquil gardens. This would be perfect for lovebirds, especially honeymooners. If you are cruising with your kids, don't worry. You can still enjoy your romantic moments as there is kids club where the staff will look after the kids when the parents strengthen their bonds on the beaches.
4. Spoil your tongue and fill up your rumbling belly with a delightful lunch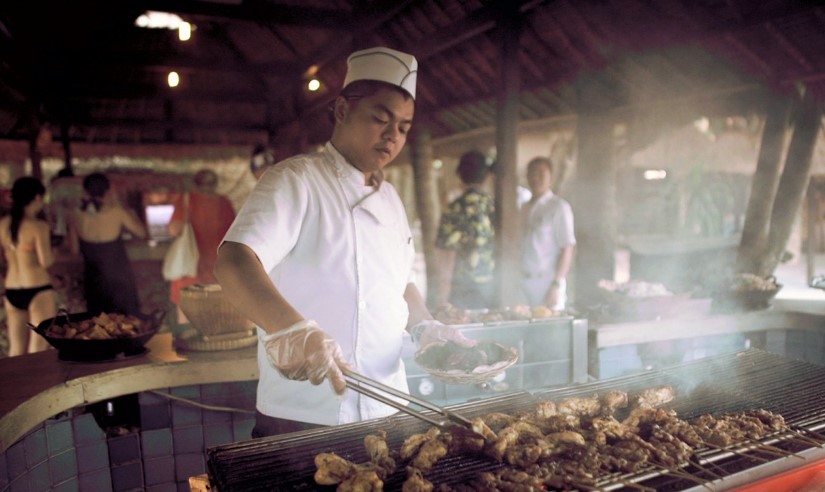 Even though there are much to see and do, don't skip your lunch! The guests of the Reef Cruise will have their lunch aboard Bali Hai II while the guests of the Beach Club Cruise will have it at the pool-side cabana. After working up your appetite with the water activities, feast on the delish lunch served buffet style in the luxury catamaran. As for those staying in the beach club, the mouthwatering BBQ lunch with salads and fresh fish will be served in Mushroom Bay, Lembongan. You can enjoy your lunch while you unwind yourself with the tranquil ambiance of the area.
5. Join Lembongan Island village tour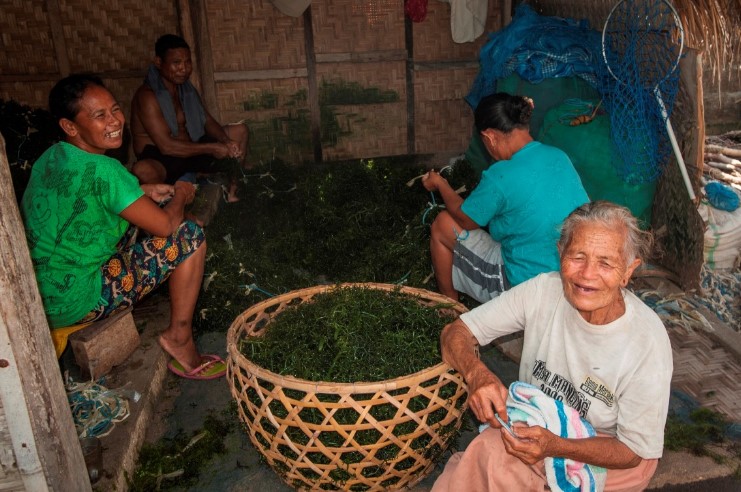 As you are in Nusa Lembongan, don't miss the chance to get closer to the locals. Join village excursion, island tour or Bali Hai Cruise that will take you to the village in Nusa Lembongan and greet the local people. Learn more about the culture and custom of the land and get to know how the locals live their everyday life. You will be taken to the village and to see the seaweed farm which is one of the main livelihoods of the villages. (/yn)