8 Cheap Things to Do in Bali
Have you thought about cheap things to do in Bali ? If so, then you are in the right place, because I will give you some information here. Bali is an island that is famous for its natural beauty. Lots of sights are found on this island. Among those tourist attractions, some of them require you to spend a lot of money. But if you look closer, actually there is a lot of tourist attractions in Bali that offers the beauty of its natural panorama without spending a lot of money. Anyway, Bali provides everything, and you only need to pay a low price to enjoy it. Here are the six things to do if you visit Bali at a low price;
1. Cycling in Bali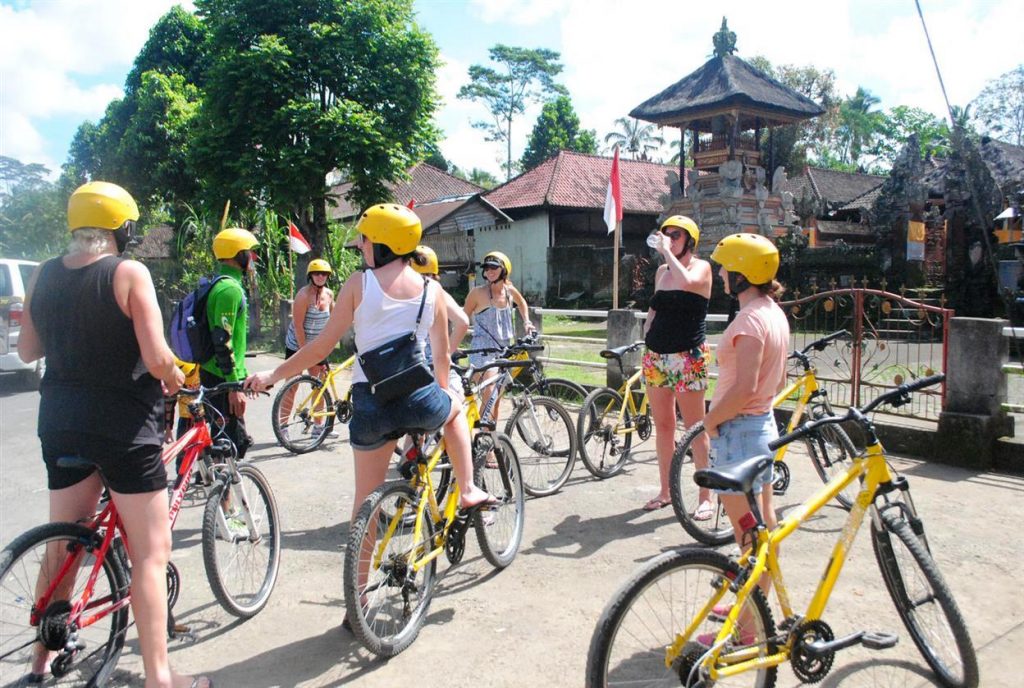 For those of you who have the busy office activities, it's time for you to refresh yourself by cycling around the mountains in Bali. Maybe you can try to do Kintamani Cycling Tour, it is one of the best cycling routes ever. Believe it or not, your fatigue will disappear and your body will be refreshed after your cycling trip in Bali. Anyway, the roads are inaccessible by car, so you will find the fresh air and pollution-free. Here, you can cycling while enjoying local beverages from the fresh coconuts and visiting a traditional Balinese house. Also, you can go through the rice fields and enjoy the scenic view and visiting Sangeh to see the monkeys there.
Related Product:
2. See the Dolphins at Lovina Beach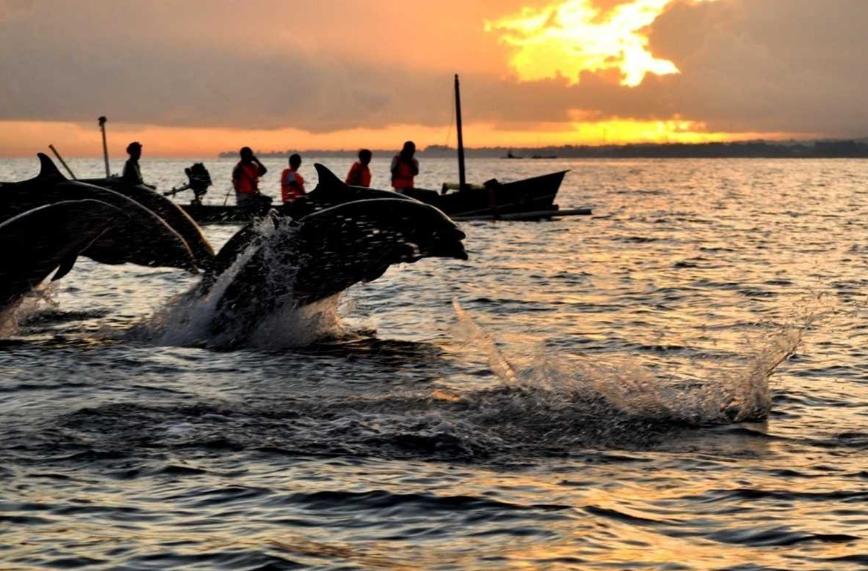 Lovina Beach may not often be heard among the tourists. But, this beach is one of the cheapest places in Bali that you probably like the most. Because in Lovina Beach you can see the dolphins swimming and jumping in their natural habitat. Located in North Bali, close to Singaraja City, you will go to the middle of the sea and see dolphins by using fishing boats. The dolphins usually play at the beach in the morning, therefore the visitors usually depart from the beach starting at 6 am.
Related Product:
3. Eating Nasi Campur (Mixed Rice) and Nasi Jinggo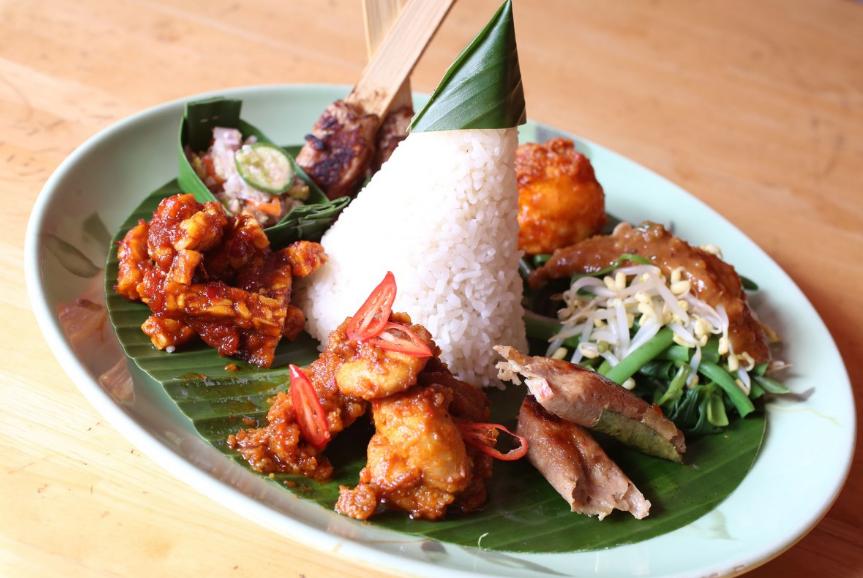 Much like sate, there are many versions of nasi campur in Indonesia, because Indonesians are eating rice. But, Balinese nasi campur is one of the most popular versions. It is one serve of rice with a mix of Balinese best side dishes. When you order a portion of nasi campur you don't know exactly what you're going to get, unless you order your own request. It could be tofu, fried tempeh, spinach, tuna, sate lilit, etc. But, one thing is a must in Balinese nasi campur, it must be sambal there, usually on the top of the rice.
While Nasi Jinggo is a quick/smaller version of nasi campur wrapped in banana leaf. Nasi jinggo is usually sold in the late night or in the early morning. Due to its small portion nasi jinggo is suitable for breakfast or when you want to eat something filling in the late night.
4. Get Around Using Shuttle Bus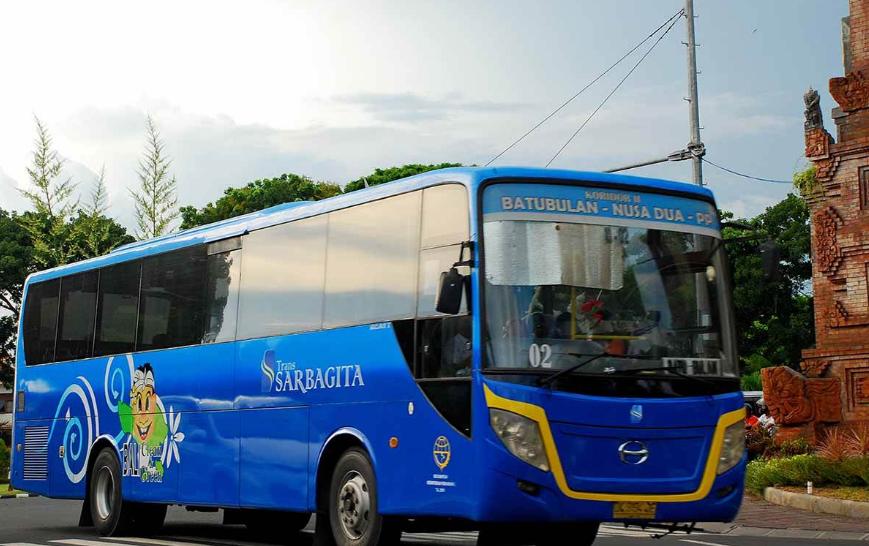 The next cheap things to do in Bali is getting around using the shuttle bus. The shuttle bus in Bali stopped in tourist attraction several times daily. The shuttle bus is more convenient and of course faster than the bemo, but it is more expensive too. Shuttle bus is a good choice if you planned to transfer from one town to another town, unfortunately, these do not stop at the small village.
5. Taste The Deliciousness of Nasi Ayam Kedewatan Ibu Mangku (Chicken Rice)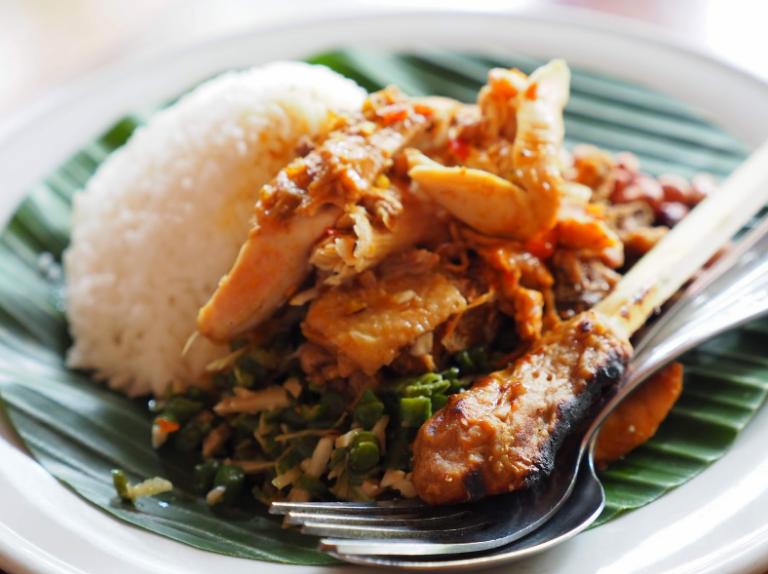 Established in 1970, Nasi Ayam (Chicken Rice) Kedewatan Ibu Mangku uses the original recipe from generation to generation. So, no wonder if the quality of the dish has not changed from the very first time until now. Some people even say that you have not been to Bali if you have not tasted Nasi Ayam Kedewatan Mangku Mangku. How come? Because this Chicken Rice is one of the typical dishes from Bali and it is absolutely tasty.
Meanwhile, Nasi Ayam Kedewatan Ibu Mangku can be regarded as one of the pioneers, especially for Ubud area. Moreover, the price is quite cheap ranging from IDR 15,000 per portion. Nasi Ayam Kedewatan Ibu Mangku indeed has a typical spicy flavor and you will rarely find a food like this in Bali. If you do not believe it, just try a portion of chicken rice. It contains rice, chicken, several kinds of vegetable, egg, chili sauce and a sprinkle of fried peanuts. Here, you can feel the perfect mixture of the soft texture of the chicken and Balinese spices that is authentically delicious.
6. Taste Lawar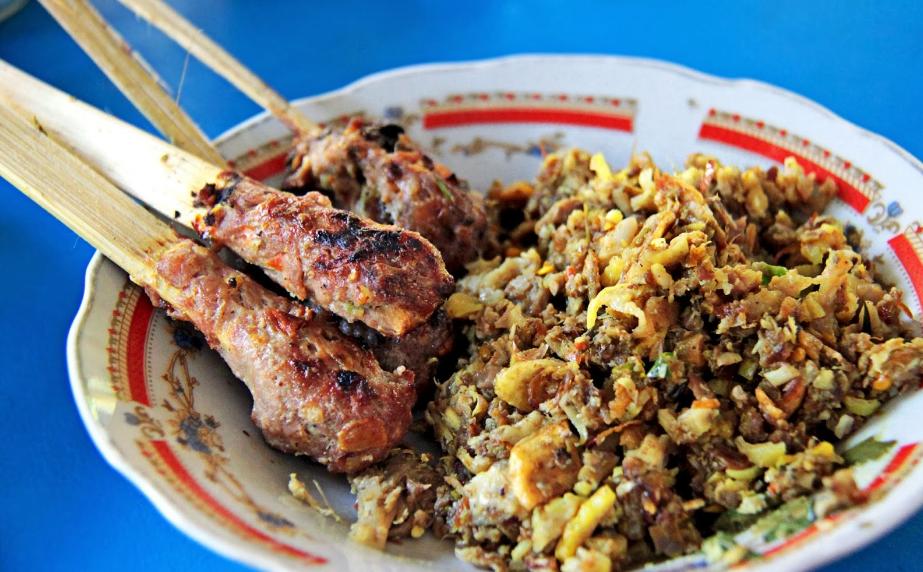 Lawar is Balinese traditional food, well-known in Bali island, many restaurants served this dishes. It is a mix of vegetable, with chopped meat, grated coconut, and other heady herbs and spices, and often fresh blood to intensify the taste, it depends on the version, usually, each village has its own version. Pork lawar and Jackfruit lawar are the most common sell all over Bali. Usually, lawar is served with steamed rice and babi guling (suckling pig).
7. Visit Sangeh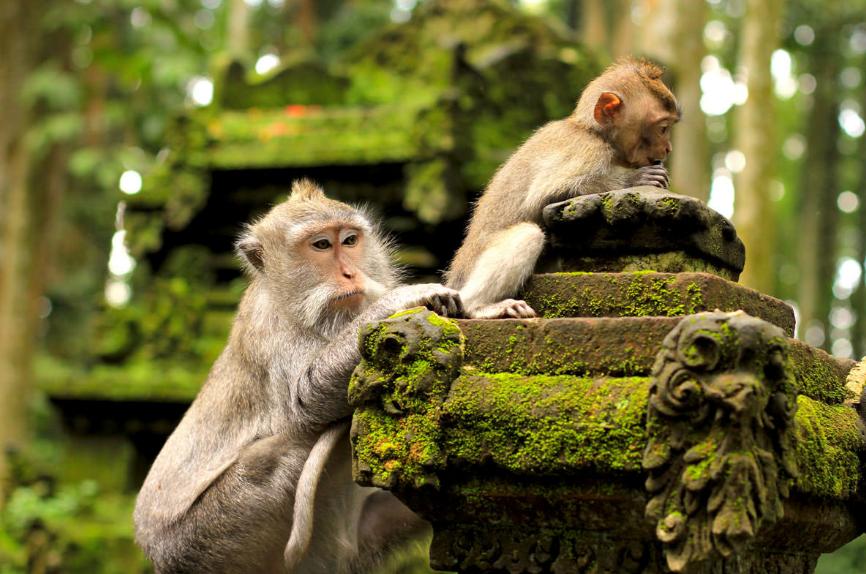 Sangeh is a tourist destination in Bali located in Badung regency. The beauty of Sangeh makes this place as one of the favorite places to visit in Bali. Sangeh is a home to the huge number of monkeys. The monkeys become one of the most exciting attractions in the Sangeh area. The shade of trees, making this place feel comfortable and shady so that people who visit there will not feel too hot.
Sangeh is an area that is protected by the government as well as protected by the customary law of indigenous peoples. Sangeh location is very strategic because the distance is only tens of kilometers from Denpasar. And the parking location there has also made accessible to accommodate buses and private cars. So, here are the six things to do if you visit Bali, but wait, we still have 2 more cheap things to do on this exotic island. So, read until the end!
8. Taste Babi Guling (Suckling Pig)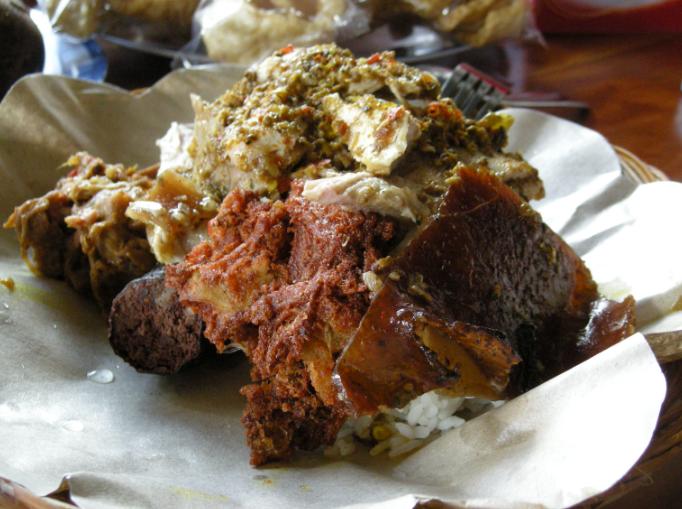 The next cheap things to do in Bali is tasting suckling pig or babi guling. Babi guling is a dish made of a whole suckling pig. They are rubbed with turmeric then stuffed with a spice paste, which usually includes a combination of onions, garlic, ginger, galangal, turmeric, lemongrass, shallots, chilies, and any other spices. The pig is roasted on a spit over coconut husks or wood to make the pork tender.
Related Product: