Stay in Cheap Villas without Spending Too Much Money
Looking for cheap Bali villas is an option to spend a low budget holiday in Bali. Bali is a famous island which is outstanding for the beauty. The beach still becomes the main attraction of Bali. Besides the beach, there are still many attractions in the mountain, forest, park, and even the river. All of them offers a magnificent view. You can watch the golden sunrise of mount Batur, come to Monkey Forest, and even have a rafting adventure.
To enjoy it all you need to get your place to stay in Bali. fortunately, there are many cheap villas to stay in Bali. It won't cause any problem to your vacation budget. You can choose which one is the most appropriate one. The followings are 6 top list of cheap Bali Villas.
Junjungan Serenity Villas & Spa, Ubud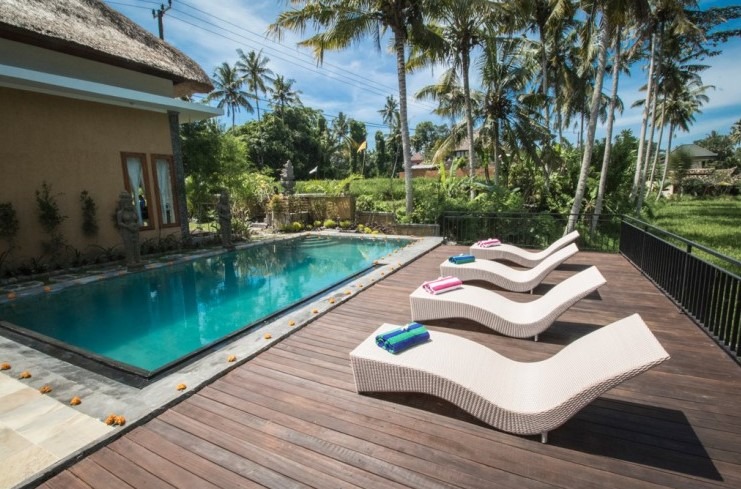 On your first recommendation of Cheap Bali Villas is Junjungan Serenity Villa & Spa. This accommodation is located in Ubud. spending your time here to explore Ubud you will get rice field as your background view. The environment surrounding is also fresh and make your mind relax.
Although it has a cheap price to stay, don't worry about the facility. It is worth and you will like to stay there. first, let's have a look at the unit villa. It has a large room and nice dining room. relaxing here is comfortable with flat TV inside. Free wifi connection is also ready to help you connect to the internet. Each room also has a personal bathroom. It is comfortable with shower and bathtub inside it.
Beside cheap price and comfortable facility, you can also feel the best service of this villa. You can explore the area surrounding using a bike. Cycling around the villa by renting the bike and feel how fresh is it. Then, if you want to go farther, just rent a car from the Villa. Furthermore, Ubud Market and Monkey Forest are only a few minutes away.
Villa Puspa, Tanah Lot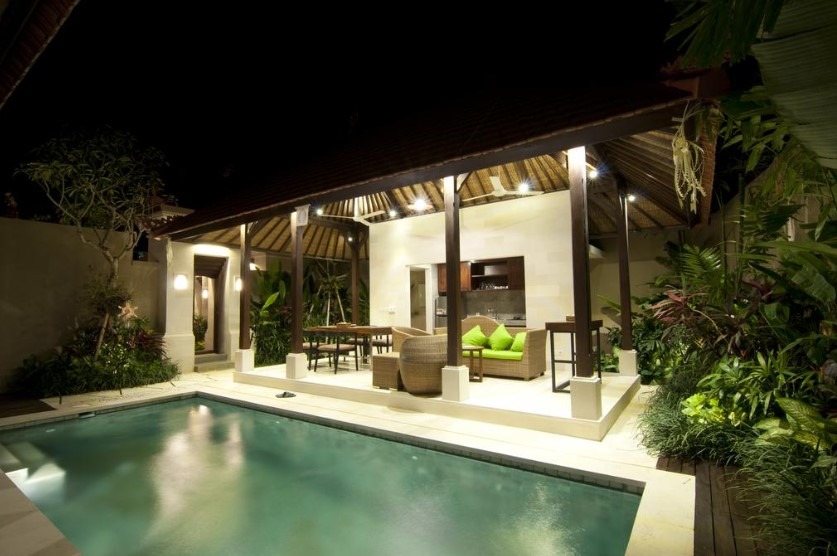 Move to Tanah Lot you will Villa Puspa as your choice of Bali Cheap Villa. Look at the chea[ price but don't underestimate the nice facility. Complete with swimming pool you can relax your time here.
Further, the location is only five minutes from the beach. You can do cycling from this villa to explore the area surrounding. There is also a restaurant in this villa. Take your best cuisine and enjoy the meal while relaxing near the swimming pool. Furthermore, you still have a free wifi connection. Use it and you can keep connected to your social media account.
What about the room facility? It is nice and doesn't show that the price is cheap. All suite is complete with a dining room. you will also get a comfortable seat inside. The kitchen is also complete and comfortable. You can use the stove, refrigerator, and even microwave. Further, in some rooms, it is complete with personal balcony. You can relax, enjoy your coffee while watching the sea in front of you.
Lumbini Luxury Villa & Spa, Jimbaran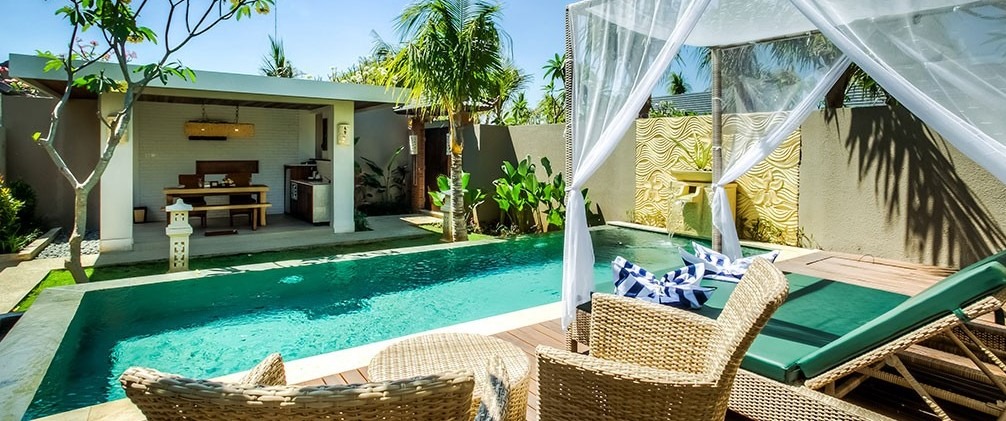 On the third list, you have Lumbini Luxury Villa & Spa. This accommodation is appropriate for you who want to spend a holiday in Jimbaran. The cheap price and the location which is near the beach are the reasons. Besides it, the facility is also nice and comfortable.
Further, you can delicious Indonesian meal as your main dishes. Free wifi connection is also provided to support your activity in Jimbaran. If you want to explore the area surrounding, you can rent a car from this villa. It also has a sports facility to keep you fit. Then, don't miss the bike. It is free to use and cycling around Jimbaran is a nice experience.
Coming to the room you will get a good impression. The cheap price which gives you a nice facility. It is complete with a personal swimming pool. The dining room is also available for you. Furthermore, the bathroom is comfortable with semi-outdoor shower. You will also get a bathtub inside it. Then, to accompany you on your lazy time, TV is ready to use.
Sanur Art Villa, Sanur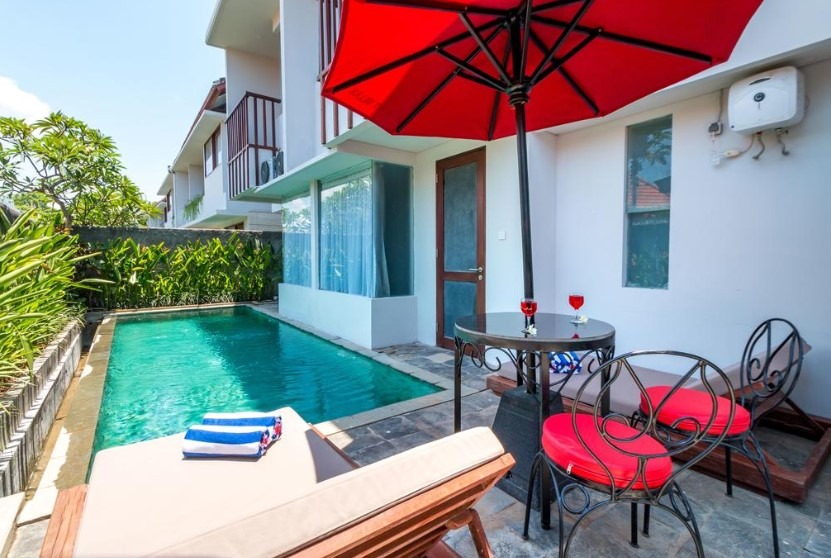 Next, special for you who want to spend your holiday in Sanur. There is Sanur Art Villa which offers cheap price with a comfortable facility. Sanur Art Villa is located around 18 minutes from Sanur beach. You visit it using bike since the area surrounding is appropriate to have cycling time.
Further, the facility is complete with wifi connection and TV. Inside the room, you will get the refrigerator to keep your food fresh. Some unit has the balcony to relax. You can take a coffee break there while enjoying the view of the area surrounding. The dining room is also provided in some villa. Furthermore, if you want an airport pick up service, it is also ready to serve you.
Umasari Rice Terrace Villa, Tabanan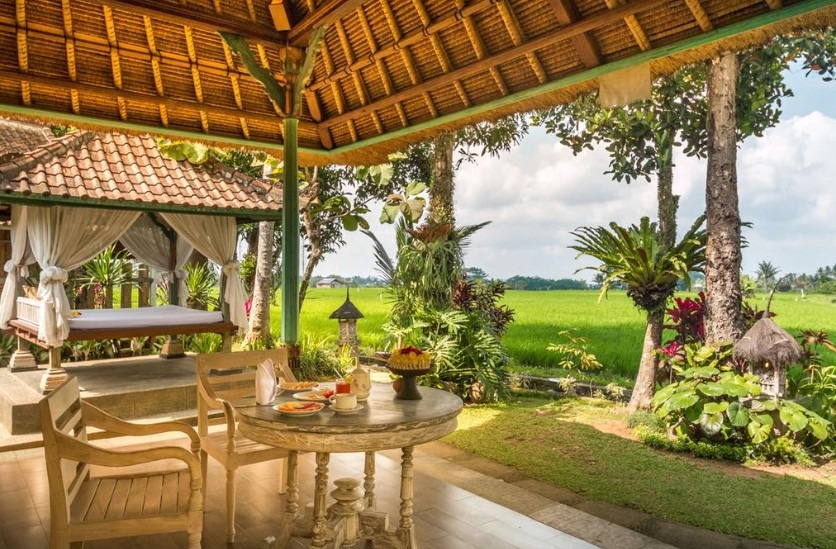 After Sanur, you have Tabanan with Umasari Rice Terrace Villa. As the name is "Rice Terrace Villa" you will get the view of the rice field. It will be so much fresh when all the paddy field is green. So fresh, comfortable, and nice to stay in.
Besides the low price, it has a comfortable facility to stay in. Every morning you will get breakfast so you don't have to find it again. Free parking area and wifi connection are provided for you. Then, you will also get a personal bathroom inside your room. it is complete with shower and other bathing tools. Further, you still have another option of relaxation here. Enjoying the comfortable park and terrace is nice enough to do with your traveling partner.
Pachira Lembongan Villa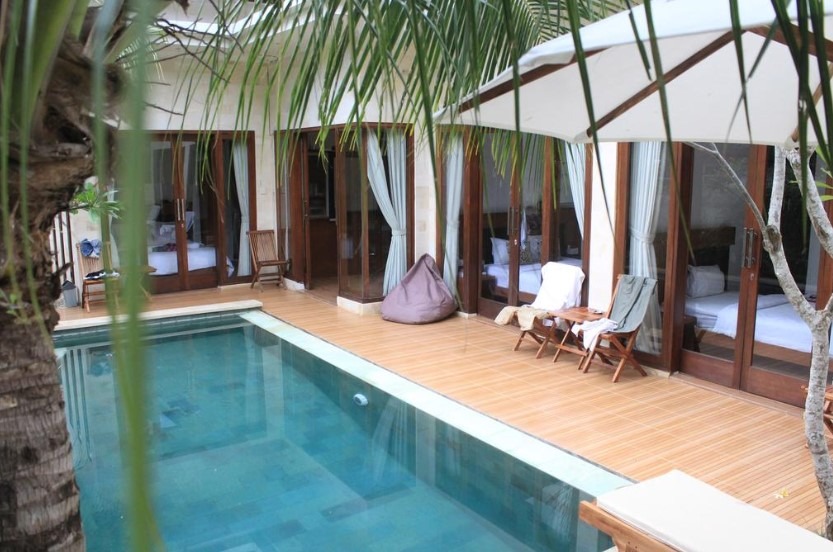 On the last list, you have Pachira Lembongan Villa. This accommodation is located in Nusa Lembongan, a tiny island on the southeast of Bali. Offering cheap price doesn't mean offering cheap service. The service and facility are good enough to stay in.
Further, Pachira Lembongan Villa is only a few minutes from the beach. It is an appropriate place to stay while spending a holiday near the beach of Lembongan. Next, let's have a look at the service. Complete with a swimming pool you can spend your time here. Each room is complete with air conditioner and TV. The personal bathroom is ready in each room.
What about exploring area surrounding? It is amazing to do. You can visit the beach to have diving, fishing, and even playing with the canoe.
Many accommodations in Bali offers a cheap price with nice service. You don't have to worry about where to stay in Bali. Although you have a low budget, don't worry !! Bali is always welcome for you.