5 Extraordinary Places to Visit in Canggu for the Eccentrics
Looking for some unique places to visit in Canggu? You're reading the right article. Today, we are going to discuss our selections of peculiar tourism spots in Canggu which you cannot find elsewhere in Bali. As you know, Canggu is a hipster village in Bali's west coast. It is between Tanah Lot and Seminyak. Since there are lots of quirky places here, lots of eccentrics come to Canggu every day. For professional surfers, Canggu offers beaches with bigger waves and more challenging surf breaks. This beach resort village soon becomes a wise alternative for tourists looking for some places to chill, especially after surfing. But, of course, the then-quiet area has a lot more to offer. Below are 5 of the most eccentric ones.
1. Gypsy-themed La Laguna Beach Club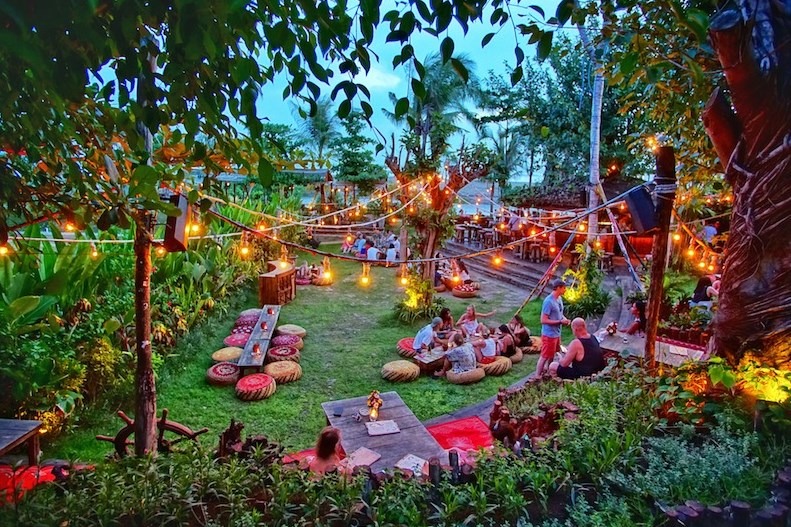 The first of our 5 special places to visit in Canggu is La Laguna. This boho-chic beachfront restaurant and bar is no doubt an out of the ordinary. Gonzales and Sandra Assiego and their children love animals and the nature. Besides, they respect Spanish gypsy culture. That is exactly why they built La Laguna. But don't worry; you don't have to be a gypsy or hippie to enter this magical land.
La Laguna is on Jalan Pantai Kayu Putih, Canggu. This place is so beautiful both under the sun and with lights on. Other than flowers and floral-patterned decorations, gypsy caravans and recycled furniture adorn the whole area. Definitely a perfect spot for Bali Snapshot Photography Tour. Also, if you want to go to the beach, you can walk through its bridge. This is guests' favorite spot during sunset. After the sun sinks, small lamps with dim light beautify the bridge even more. How romantic!
What can you get in La Laguna? Besides delicious dishes (and tapas!) and the refreshing drinks, you can experience one of the signature 'arts' in gypsy culture. Yes, it's tarot card reading. You can get yours at La Laguna every day from 5 p.m. to 9 p.m.
2. Pretty Poison Bar & Skateboard Bowl (and Crate Cafe)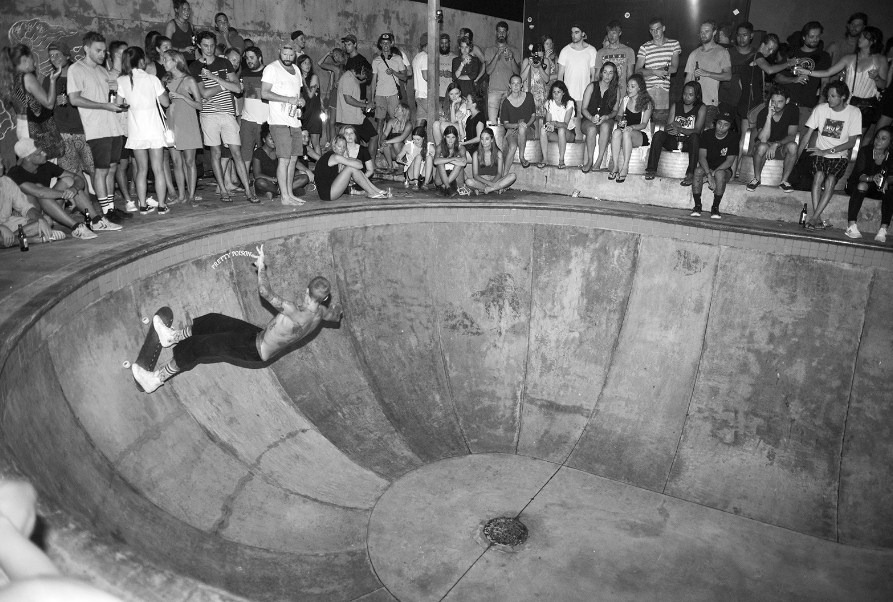 If La Laguna is a hang-out place for hippies, Pretty Poison is where skateboarders and clubbers gather in Canggu. The landmark of this bar is which appears to look like a big quirky empty pool. This is the skateboard bowl, in which skaters show off their skills to the audience surrounding the bowl. It is easy to reach this bar and skateboard park. What you need to do is following Jalan Subak Canggu a.k.a the famous Canggu Shortcut.
Besides skateboards, there are more to enjoy in Pretty Poison. You can sip some alcoholic drinks, enjoy live music, and even get a tattoo. Pretty Poison also often holds indie movie screening and art exhibitions. Although it seems like an underground place for cool kids, Pretty Poison actually embraces all generations, both locals and tourists. What is cool with skate culture, according to the owner of Pretty Poison, is that they respect each other well.
Maree Suteja, founder and owner of this cool place, also runs a popular eating place for the best brekkie experience. It is Crate Café, small but crowded place famous for its best coffee and delightful brunch menus. Besides, this café is vegan friendly and serves gluten-free meals as well. Crate Café is on Jalan Batu Bolong, with Pretty Poison and Deus ex Machina located nearby.
3. Deus Ex Machina Bali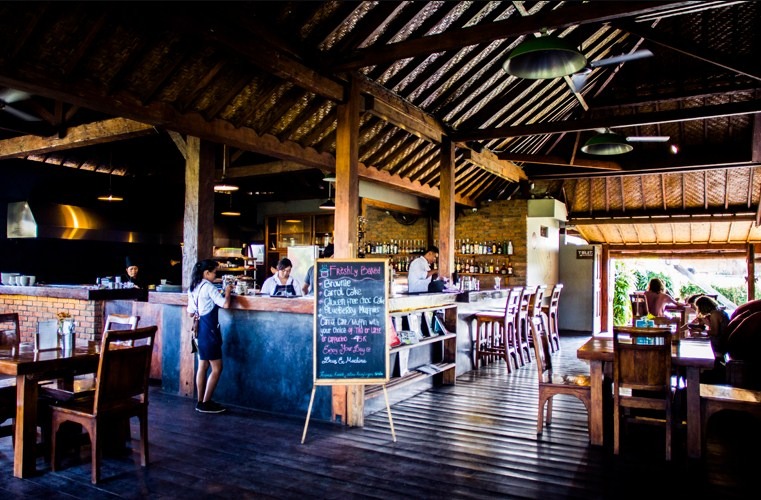 Canggu is surely where eclectic groups of eccentric people go. It is where you can find the hippest places. At Jalan Batu Mejan no. 4, Canggu, there is Deus Ex Machina, one of the must-go places to visit in Canggu for bikers and surfers. This complex is just 3 minutes away from Pretty Poison and 2 minutes away from Crate Café. Rice paddies surround the area, granting it a tranquil atmosphere. Its Temple of Enthusiasm is where creativity is in the air. They make custom motorcycles and surfboards. But, the workshop is not the only thing that marks up this place. It's a complex, you know. Besides gasoline, you can smell caffeine.
Deus Café is where surfers can chill and fuel themselves after challenging the waves. It is a fusion of Indonesian culture and Western cuisine. Deus Café values the most important meal of the day, i.e. breakfast, by serving healthy menu. You can have healthy fruit salad, chia puddings, burritos, eggs, and bacon. Besides, they also make delish freshly-baked pastries and brew great coffees. For lunch and dinner, Deus Café serves even fancier menu, including seafood, meat, veggie burgers, and healthy salads. Yum!
4. Gimme Shelter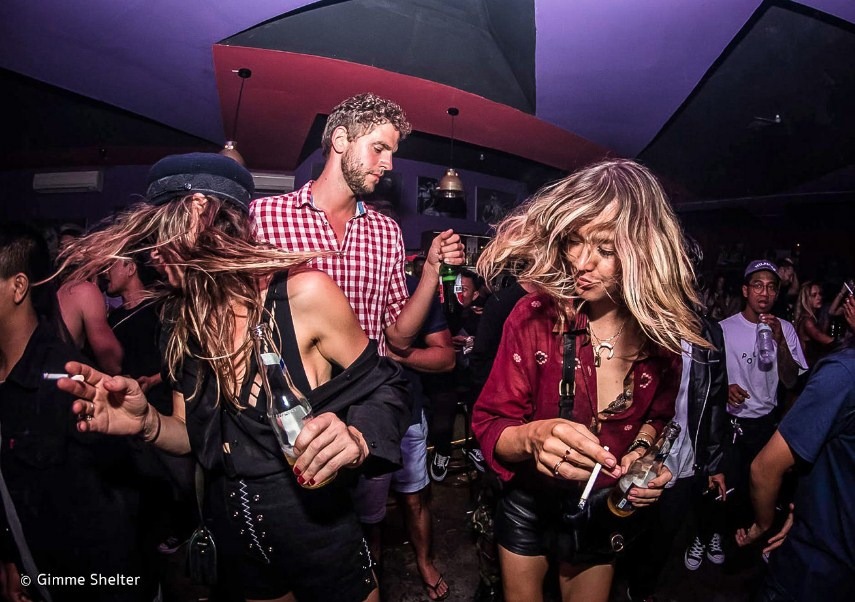 There are numerous places to visit in Canggu where you can enjoy music. One of them is Gimme Shelter. First off, do you feel familiar with its name? Rock n' Roll enthusiasts must know this very well. Gimme Shelter is one of famous songs of the legendary band The Rolling Stones. Yup! Gimme Shelter Bali is a live music venue that hosts rocking music performances for young rock n' roll crowd. But, its regular gigs present not only rock n' roll music, but also punk, grunge, and metal.
Made Putrawan a.k.a Made J, a Balinese blues performer, established Gimme Shelter on Jalan Lingkar Nelayan. It is undoubtedly a fun and loud place for night owls looking for good music vibe. Guess what! This venue is also really close to Crate Café, Pretty Poison, and Deus Ex Machina. It only takes you under 5 minutes to reach Gimme Shelter from any of them.
5. Bali Equestrian Center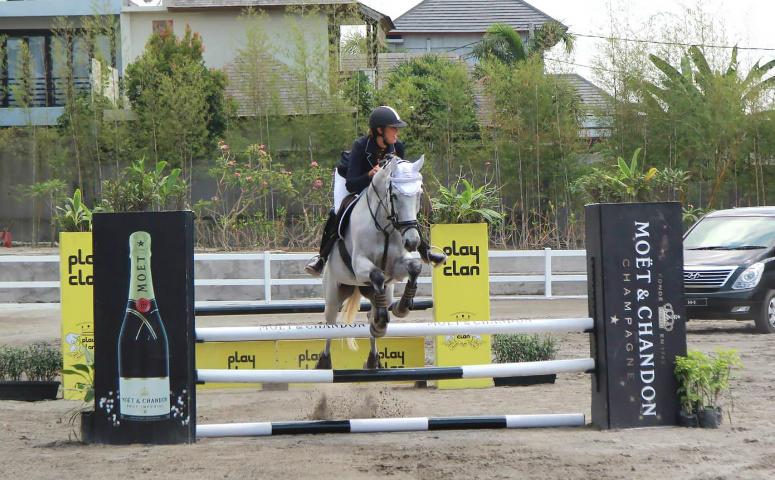 Now, let's talk about fun activity to do in Bali. What comes to your mind? Well, you probably think about surfing or any other water sports. But, have you thought about horse riding in Bali? How about joining a village tour or beach tour on top of a horse? That sounds like fun, doesn't it? Bali Equestrian Center is the very place for that exciting activity. As the name suggests, this place is a horse sanctuary. Bali Equestrian Center offers riding activities in the arena, children's activities, and horse-riding lessons with professional instructors. Besides, there is a café, pool & playground area where you and the kids can chill out after the ride.
Bali Equestrian Center is a place to get closer to over 30 school horses in the stable. There, kids are encouraged to try riding the ponies. Besides, BEC also accommodates special events where you can arrange and have your parties in the area. To experience all that, you can head to Perumahan Canggu Asri, Jalan Karang Suwung, Berawa, Canggu.
Because Canggu's roads are difficult to navigate, you may need to use GPS to know where to go. For this, you will probably need pocket WiFi or local SIM card. Or, for the most convenient, you can just hire a private car with a driver who'll take you anywhere you want.