Choices of Comfortable, Nice, and High-Class Service of Ubud Resorts
Ubud Bali Resorts offers a different sensation of common resorts in Bali. Ubud is a little bit different to the other tourism of Bali. If everyone knows Bali as the paradise of beaches, Ubud has the different one to be offered. Spending your time here is full of fresh air. The tropical forest and green view are two perfect combinations of harmony. Further, there is also the river which comes to give you different enjoyment. All of them are working together to create the beauty of Ubud.
Talking about spending a holiday in Ubud is not complete without choosing the right accommodation. Many accommodations are offering perfect facility in Ubud. From the design, cuisine and even the perfect panoramas. Then, which accommodation is the right choices for you. The followings are 5 choices of where to stay in Ubud Resorts.
The Ubud Village Resort & Spa
Bringing the concept of Ubud, The Ubud Village Resort & Spa Gianyar has all Ubud beauty you need. Surrounded with green park and rice field make this accommodation full of freshness. The fresh air of Ubud also comes to add your comfortable feeling. This accommodation is highly appropriate for honeymooners. Besides for honeymooner, spending a family vacation here is also nice to do.
Further, let's check what service and facility you get. The first is the spa. You can enjoy this relaxation service to keep your body fresh. An outdoor swimming pool is also available. You may swim there and enjoy the panoramas surrounding. Wifi connection is also available for you. Then, never forget the delicious meal. Angkul-Angkul Restaurant is ready with the local delicious food. You will have a nice view of rice field while having the taste of your delicious cuisine.
Furthermore, let's come inside to your room. Check how nice facility you get. All the luxury life is yours with the comfortable furniture. The private park also a perfect place to spend your private life. The bathroom is clean, comfortable, and well-taken care. It is complete with a shower and bathtub.
Padma Resort Ubud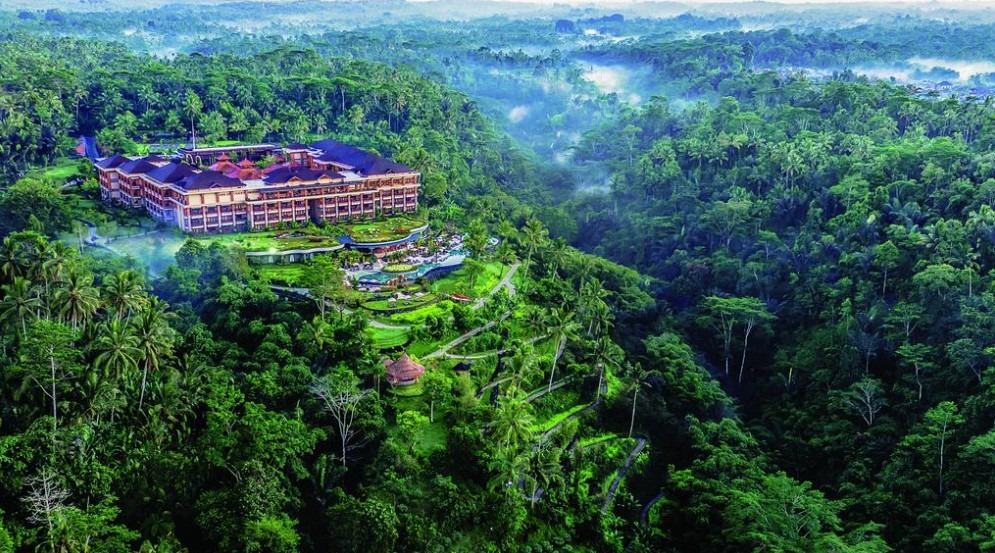 On the second list, you have Padma Resort Ubud. Surrounded by green and beautiful natural view, this accommodation is the representative of Ubud life. Spending family trip here is perfect since it has a friendly facility for kids.
First, you have to know the facility for this accommodation. It has a swimming pool which is nice to have a relaxing time. Playing ground for kids is ready to cheer them up. You can also use airport pick up service to get ease reaching this accommodation.
Furthermore, the room is also perfect and the furniture is nice. Personal balcony, comfortable seat, TV, Wifi connection, and many more. don't forget the bathroom. It is clean and well-taken care. You will be happy with all the facility of Padma Resort Ubud.
Kamandalu Ubud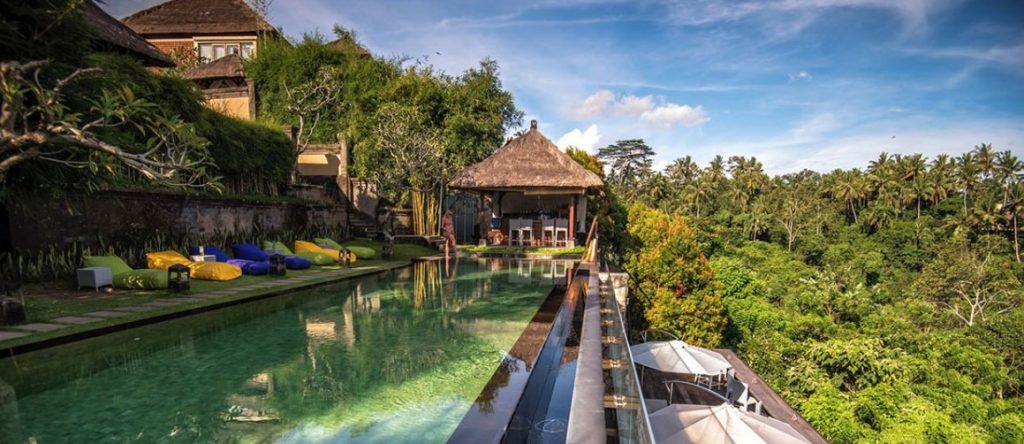 As the other Resort of Ubud, Kamandalu Ubud offers the feeling of fresh air and natural view. Located on the slope of Ubud Hill becomes the plus point of this accommodation. The natural view and tropical forest create a perfect harmony of Ubud true natural feeling.
Before spending your vacation here, just check how nice and perfect the service is. The beautiful valley will be your first view. Then you can enjoy the spa with fresh air as your friend. Walking and exploring ricefield are nice to do. Furthermore, you can also swim and relax at the swimming pool. To fulfill your hunger, the traditional cuisine is ready. It is delicious and spoils your tongue.
Moreover, the room facility is complete and perfect. Wifi connection and TV are your best friend in lazy time. The bed is comfortable and you will sleep longer there. The bathroom is very nice, clean, and perfect. Don't forget the private swimming pool. It is ready to be happy with you at your private suite.
Natya Resort Ubud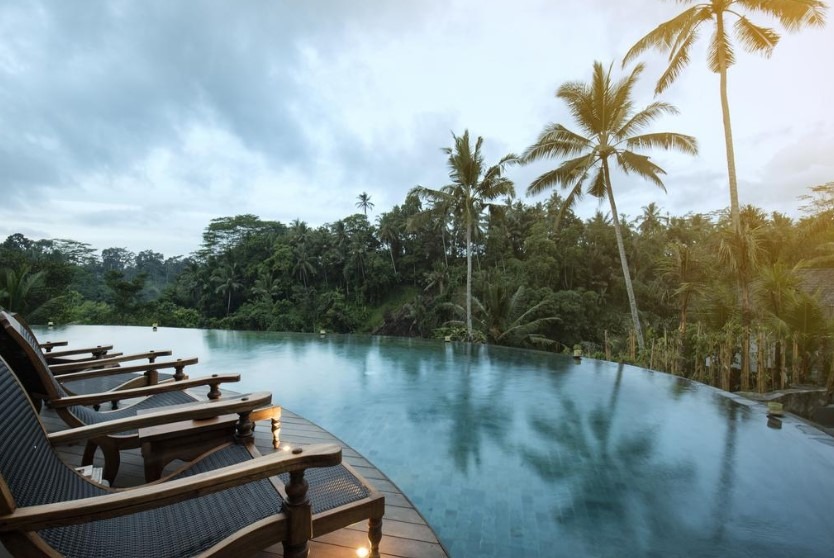 Next, Natya Resort Ubud has an offer for a luxury resort in Ubud. Complete with all luxury facility and perfect enjoyments. The panorama is also nice with a natural green view around. Perfect place to relax at the infinity pool. Taking this accommodation as your stay will be much of happiness and laugh.
As a luxury resort in Ubud, of course, it has all you need. Enjoy the barbeque time with your family or couple at the swimming pool. Then, you can also relax at the swimming pool while watching the forest. Delicious cuisine is ready to satisfy you. Moreover, some Ubud main destination is close to visit. Monkey Forest and Puri Ubud are only a few minutes away.
Furthermore, what about the room facility. Don't worry about it. Perfect is the only word to draw it. Nice room with nice bed and nice facility. You will get a TV and free Wifi connection. Comfortable seat and complete with personal balcony, all is perfect to relax and refresh your mind.
Komaneka at Tanggayuda Ubud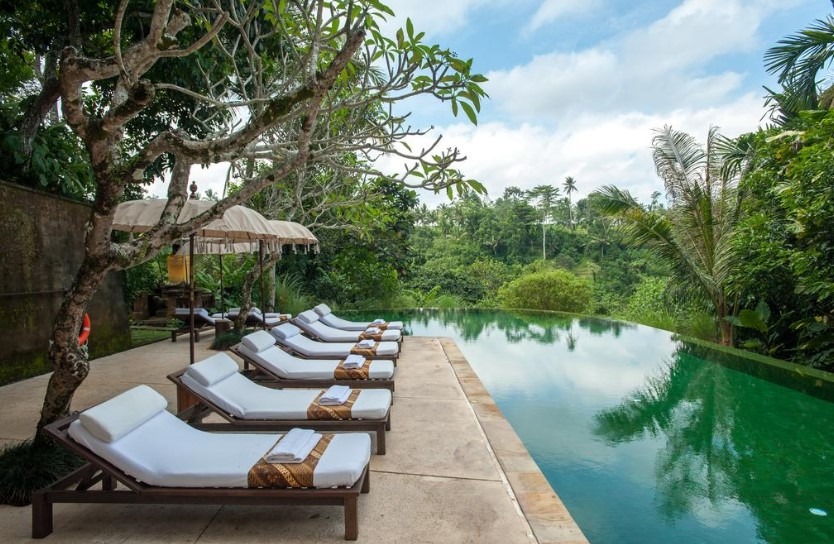 Offering a complete facility, Komaneka at Tanggayuda Ubud is ready to welcome you to Ubud. The Ubud view with infinity pool. Imagine how you can relax with fresh air, green view and perfect facility. Spending your time here and the only thing you get is happiness and perfect trip.
Further, let's see how the service will make you comfortable. It serves you with spa, gym, and library. You can choose all of them as you want. The restaurant also has a nice view and delicious Indonesian food. A bar is also provided for you. Another service is free to pick up service. You can use it for exploring Ubud.
Next, how about the room? as usual, it is nice. Comfortable and large enough to use. What makes it different is the design. It has the elegant pole with a comfortable bedroom. The bathroom also nice to use. It is complete and you always use it longer than ever. TV and wifi connection are also ready for you. Use it in your spare time to help you relax in taking rest.
In addition, don't forget exploring some Ubud destinations surrounding. You will have Botanic Garden Ubud and Ceking Terrace to visit. Even Restoran Babi Guling Ibu Oka can be visited only in a few minutes.
Spending time in Ubud is always awesome. All the experience is unforgettable. Then, the facility is perfect and very nice. Get your holiday here in Ubud and feel and the paradise of freshness.
Related Product: